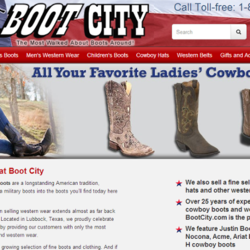 We hope to be able help up to 10 Equine charities with this program in 2013
Lubbock, TX (PRWEB) May 28, 2013
In the spirit of Western camaraderie, a national boot retailer seeks to extend a hand to the equestrian community in need of online assistance. Boot City, one of the nation's largest retailers of cowboy boots and western wear, has teamed up with SEOTA.com to start a campaign to give free web development services to help boost the online capabilities of horse-related charities. The transformed sites will benefit the organizations through attractive interfaces and streamlined navigational structures.
While charity websites are all built on noble causes, they often have difficulty deploying their unique messages to internet users due to limited website functionality. Since the majority of their budgets go to the cause that they represent, charities have little financial wiggle-room for something like internet marketing technology. This can leave websites looking dull and antiquated, two things that can repel visitors.
Key Points of the Give Away:
A. A Charity, in order to qualify, must benefit horses or use horses to benefit society.
B. The Charity must be currently active and have an existing website to be replaced.
C. Up to 10 Horse related Charities will help with this program.
D. To apply for help, visit http://www.bootcity.com/horse.
With a heart for charity and a mind for technology, Boot City wants to offer these particular charities the opportunity to renovate their online presence with a website upgrade. At no charge whatsoever to the charity, the developers at BootCity.com will transfer the original site to a new, mobile-friendly website. The new website will make it easier for equestrian charities to interact with the increasingly segmented market and transmit their message to a broader audience.
The new websites, created using "Responsive Design", automatically adjust to any monitor resolution without compromising ease of navigation: desktops, phones, tablets and even the new "phablets" can all immediately render a version of the site that eliminates the need for horizontal scrolling. Furthermore, the responsive technology enables web marketers to activate and deactivate content based on resolution size, allowing them to tailor their messages to best fit the needs of the PC or mobile user.
Boot City's website has used responsive design since its last release and believes that many online retailers will soon need to adopt responsive technology to remain competitive. With the overwhelming number of retailers in a specific vertical, the most successful ones will be those that facilitate the shopping and checkout processes - something that responsive design makes fluid and intuitive.
Boot City is certain that the new technology will serve to increase each charity's awareness and help it reach more donors than ever before. Responsive technology can help charities target their user demographics in the same way that retailers do, improving conversions and, in the charities' cases, generating interest in the cause. Boot City is eager to share this opportunity with any authentic horse-related charity that wishes to partner with them. Any interested charities can reach the developers at Boot City by emailing them at helpme(at)bootcity(dot)com.
Among the nation's top cowboy boot and western wear retailers, Boot City has provided customers with the finest names in boot manufacturing for over twenty years. Based in Lubbock, Texas, Boot City has a close connection with both contemporary and traditional western culture, earning it a reputation as a trustworthy retailer of quality footwear. Visit http://www.BootCity.com to view their expansive inventory and learn why Boot City sells the most walked about boots in town.