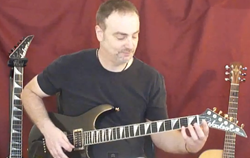 In fact, Guitar Control already has close to 300 clips on You Tube such as this one and they say they "won't stop until the whole world can play the guitar!"
Los Angeles, California (PRWEB) May 25, 2013
Guitar Control is at it again, but this time not only do they have a new complimentary guitar lesson, they also have another brand new teacher. His name is Rob Compagna and teaching is exactly what he does in this extra long video clip that lasts for more than 8 minutes. The basic point of this lesson is to show people a guitar exercise routine that is intended to help improve certain skills, such as speed and accuracy.
When a student is trying to learn the guitar, it is of course rather important to have a good instructor, and the astute Mr.Compagna certainly knows his stuff when it comes to the six-string. Even though he's still pretty young, he's been playing for 30 years now and therefore he knows what info is relevant and the best way to convey it. So although some of the content is a bit complex, this sort of guitar lesson should basically be suitable for most skill levels.
The tutorial begins with a guitar exercise that involves only 2 strings and 2 fingers, so whoever is following it will be working on flexibility in a flash. Then, Rob moves on with guitar scale exercises, which are a great tool for licks and an essential part of becoming a proficient player. In addition, there are guitar exercise tabs which can of course come in quite handy, as they display the finger positioning on the fretboard.
Nowadays, it seems like everybody either wants to, or already plays some sort of musical instrument. This is probably partially due to the ease of online learning and lessons like these, that are not only potentially informative, many of them are also free. In fact, Guitar Control already has close to 300 clips on You Tube such as this one and they say they "won't stop until the whole world can play the guitar!"