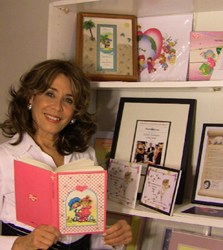 Vivian has been creating value and creating hope for millions for over 30 years
Miami Lakes, FL (PRWEB) May 24, 2013
The crowdfunding industry is about to change. Vivian Greene, the artist, author, entrepreneur and philanthropist, know for having the most popular quote on the internet, "Dancing in the Rain" and the book, "Dance Your Dance" is going to help other creatives realize the full extent of the value of their creations, via crowdfunding and workshops.
Greene is an expert at helping others realize their dreams. She has been conducting "Prosperity" workshops since 1981. Conducting crowdfunding workshops is a natural progression according to Greene, who believes that crowdfunding is "working from the heart".
Vivian Greene will be appearing at 12:00 PM on Wednesday, May 29th in Crown Heights, NY. She will be speaking on crowdfunding at the "Ladies Who Lunch" event.
From her KISSES™ comic strip, syndicated in 22 countries, to her proverbial quotes displayed in nearly every retail outlet nationwide and licensed globally, Vivian has been creating value and creating hope for millions for over 30 years showing her message of inspiration and love. In fact, more than 80 million of her greeting cards have been sold in the U.S.
Greene, with her unique licensing and cross promotional approaches that she has perfected throughout her 40+ year career in the licensing and branding industry, is uniquely qualified to teach others how to turn their creative vision into reality with crowdfunding. With the support of her partners, she will be able to help others understand how to transfer that reality into a crowdfunding business.
"I want to show people that they can start with what they have. People tend to believe that they need a large public relations firm, and that's just not accurate. Through crowdfunding, not only can family and friends provide support, but each person can reach another two to three people," stated Greene.
Greene knows what she's talking about. She has experienced huge success with her crowdfunding campaigns, with the most recent campaign becoming fully-funded within 15 hours. Furthermore, Vivian will be attending the BookExpo America in New York next week where she will not only be discussing the licensing of her book with publishers, but also introducing them to other creative talents that she has backed via crowdfunding. Vivian has personally backed close to 300 crowdfunding projects involving film, authors and artists.
For information on working with Vivian, or speaking engagements, contact Vivian Greene.
About the companies
Vivian Greene, an artist, author, entrepreneur and philanthropist has been creating value and creating hope for millions for over 30 years with her message of inspiration and love. She brings "endearing advocacy" as a maxim dedicated to solving problems creatively and creating prosperity for all involved. Vivian supports visionaries and innovators who are making a positive difference and is actively collaborating with companies that share her vision - profit with purpose.
KickSmarter
As a socially conscious crowdfunding company, KickSmarter provides curated crowdfunding projects backed and supported by Vivian Greene, leading female entrepreneur and founder of the KISSES! brand. Vivian's vision and the vision of KickSmarter is to enable artists, authors, photographers, speakers and visionaries to serve others and prosper by turning their works into inspiring products. KickSmarter believes fundamentally in the vision often attributed to Benjamin Franklin of "doing well by doing good".
VG Merchandising
VG Merchandising provides Vivian Greene artwork, books, cartoons, jewelry, greeting cards, bookmarks and associated text & graphic licensed products to a worldwide audience through novel direct selling techniques.
This information is being distributed for the client; Vivian Greene, by Philip Cardwell at Universal Media Consultants. From top magazines to leading TV stations, UMC has been very effective at distilling client's messages in the major national media. The aim is simple. To multiply message impact and client exposure in highly targeted markets, quickly, imaginatively, and cost-effectively. For more information, visit http://www.universal-media-consultants.com.