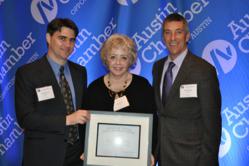 How a company expands into a new market sets the stage for its success and reputation from the beginning.
Austin, TX (PRWEB) May 28, 2013
Custom software application developer and integrator, Bridge360, was awarded the 2013 International Service Award in May by GlobalAustin and the Austin Chamber of Commerce at the Third Annual Austin International Export Awards: An Evening with the Consular Corps.
"Today, we have dozens of clients doing business in over 90 countries," said Brenda Hall, Bridge360 CEO. "And those figures are growing every year thanks in no small part to our global consulting knowledge. Our clients value us for our technical expertise as well as our understanding of the cultural differences around the globe."
The awards ceremony is hosted annually by GlobalAustin and the Austin Chamber of Commerce and recognizes small, medium and large companies for their global success in manufacturing and service. Former Secretary of State Geoff Connor was the evening's Master of Ceremonies, with presentations by Austin Mayor Lee Leffingwell, State Representative Mark Strama and Secretary of State John Steen.
GlobalAustin started in 1960 as the International Hospitality Council of Austin with a mission of matching international students attending the University of Texas with Austin families. It has since grown its mission to foster foreign tourism and develop international business relationships helping to generate the hotbed of technology companies, like Bridge360, that call Austin home.
But Bridge360 stands apart from other companies when it comes to understanding the nuances of expanding business from one country to another.
"How a company expands into a new market sets the stage for its success and reputation from the beginning," added Hall. "Many of our clients are technology companies themselves looking to take their product to foreign markets, but they just haven't considered the impact on their internal staff to support global market entry. That's where our expertise comes in. We understand what the local compliance laws are, and we take into account the cultural sensitivities and language barriers to ensure the new customer base understands the product and the intellectual property is protected."
Other International Award winners included Freescale Semiconductor (Large Business Export Award winner), Durcon Incorporated (Medium Business Export Award winner), and Fabworx Solutions Inc. (Small Business Export Award winner). The award for Top Foreign Direct Investment in 2012 went to Samsung Austin Semiconductor. The black-tie event also recognized individuals for their outstanding leadership in international relations and the recipients of GlobalAustin's scholarships supporting international diplomacy and study.
The International Export Award winners were also recognized earlier in the day at the Governor's Small Business Forum: Texas Global Business Summit during a luncheon that featured a keynote address from Governor Rick Perry.
About Bridge360
Bridge360 improves and develops custom application software at the enterprise level of a company, focusing on critical proprietary applications. By specializing in solving complex problems at every phase of the software development lifecycle, Bridge360 removes roadblocks to help clients' software and applications reach their goals in any market.
The Bridge360 customer base includes world technology companies, leading system integrators, federal and state government agencies, and small to enterprise businesses across the globe. Bridge360's clients span industries from legal to healthcare, automotive to energy, and high tech to high fashion; all counting upon Bridge360 to clear a path for their success.
Bridge360 was founded in 2001 and is headquartered in Austin, Texas with offices in Beijing, China.