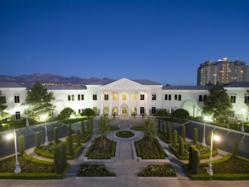 We're spreading the word to physicians about Cenegenics' proactive approach, next generation protocols—and how age management medicine is a perfect fit for doctors in various sub-specialties to augment their existing practice.
Las Vegas, NV (PRWEB) May 30, 2013
Major metro areas nationwide are clamoring for healthy aging solutions, which is why Cenegenics is answering the call by reaching out to physicians in all walks of medicine, offering them a highly regarded physician training/certification program and innovative partnering opportunities with Cenegenics' paradigm shift in medicine, announced Cenegenics, the global leader in age management and recognized leading authority in the field. To launch their expansive physician search, Cenegenics introduced their program offerings at May's New Orleans National American College of Obstetrics and Gynecology medical meeting, where several hundreds of doctors visited their booth to learn more about age management medicine.
More people are turning 60 every day, and many are disheartened with the current status of healthcare. Adding to that are increased numbers of younger men and women—mid-30s to 50s—who also want something more than the status quo healthcare approach. And that, says Cenegenics, is where their Elite Health Program comes in and why they plan on growing their physician base by attending other national medical meetings, such as events for internists and general practitioners.
"Our outreaches to various medical meetings will help us spread the word to physicians about Cenegenics' proactive approach and next generation protocols—and how age management medicine is a perfect fit for doctors in various sub-specialties who are exploring different avenues of medicine to not only deliver superior healthcare, but to augment their existing practice. Cenegenics offers them all of that via our part- and full-time opportunities," Dr. Michael Resnick said. Resnick is a longtime Cenegenics physician and former gynecologist/obstetrician.
According to Cenegenics, many physicians want to love medicine again and get back in control of giving quality care to patients. That begins, says Resnick, with the right training from the leader in the healthy aging field.
"To ensure physicians have ongoing competency and lifelong learning in age management medicine, Cenegenics recently expanded its training offerings. It begins with our newly redesigned primer, Physician Training & Certification in Age Management Medicine program, offered via Cenegenics nonprofit Age Management Medicine Education Foundation and its joint educational effort with the Age Management Medicine Group. From there, we've added an Advanced Topics in Age Management Medicine series, which helps expand our fund of knowledge on hormones, nutrition and exercise," Resnick said.
Physicians can discover the rewarding benefits of practicing age management medicine by contacting Cenegenics Director of Physician Recruitment James Powell at 702.321.9716.
Follow Cenegenics on Facebook, Twitter and get health tips, patient celebrity blogs and health news on their portal site, CenegenicsPost.
To schedule an interview with Cenegenics, please contact Ann Castro, Cenegenics Director of Media Relations: 702.953.1588.
About Cenegenics
Cenegenics® has forged a paradigm shift in medicine with its Elite Health Program, developing a proactive medical approach for maximized health, vitality and wellness, hailed as "next generation medicine" and garnering worldwide media attention. Cenegenics has 22 centers with others opening in the near future: Las Vegas, Nevada (headquarters/2 centers); Charleston, SC; Boca Raton, FL; Dallas, TX; Arlington, TX; Atlanta, GA; Chicago, IL; Beverly Hills, CA; Philadelphia, PA; Washington, DC; New York City, NY; Tulsa, OK; Jacksonville, FL; Atlantic City, NJ; Houston, TX; Denver, CO; Scottsdale, AZ; Boston, MA; Miami,FL; Charlotte, NC; San Juan, Puerto Rico; San Francisco, CA. Cenegenics serves over 20,000 patients globally—2,000 are physicians and their families.
###