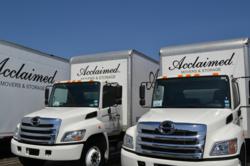 Costa Mesa, California (PRWEB) May 25, 2013
Costa Mesa's premier, luxury residential and commercial moving company, Acclaimed Costa Mesa Movers, has just completed a massive conversion of its fleet of trucks. The company added low rolling resistance tires and SmartWay air filters to all of its vehicles to meet California's strict state regulations regarding greenhouse emissions. Now, Acclaimed offers eco-friendly long distance moving to cities, states, and countries all around the world. The conversion of its vehicles comes before the state cracks down on all commercial vehicles, putting Acclaimed one step ahead of the competition. Acclaimed Costa Mesa Movers is a full-service, fully comprehensive, luxury moving company.
Acclaimed Costa Mesa Movers continues to help homes and businesses with moves across the street, across the nation, and across the world. For more than a decade the company has handled all manner of moves, and can efficiently move houses, offices, apartments, warehouses, condos, retail facilities, restaurants, and more. Each of their Costa Mesa movers is an industry veteran, who goes through innovative training to ensure that they can correctly wrap, pack, and then move any item. With Acclaimed's packing service, all small items are boxed up, large items disassembled and eventually reassembled, and all delicate or valuable items like flat-screen TVs, artwork, antiques, and electronics are protected by hand-built moving crates. For safe transportation, the Costa Mesa movers utilize a fleet of cutting-edge trucks, which are equipped with GPS for efficient navigation and tracking of shipments. Moreover, if storage is required, Acclaimed maintains space for long-term and short-term storage in their massive, climate-controlled, secure, storage facility.
Acclaimed Costa Mesa Movers is dedicated to making a lifelong customer out of each person that they help, by providing unparalleled moving services at unbeatable rates. The company has quickly become synonymous with affordability, efficiency, and reliability in the moving industry. With their newly converted trucks, Acclaimed is primed to provide moving solutions for all of California. When it's time to move a home or business, it's time to get a free, no-obligation quote from Acclaimed Costa Mesa Movers. We'll get you moving any where in the county you need long distance movers.