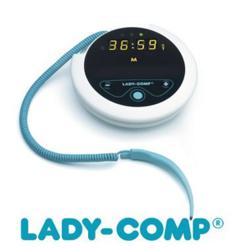 "We have used Lady-Comp for four months now and it not only accurately pinpointed my fertile days, but also the exact date of ovulation." Collette Rooney
(PRWEB UK) 27 May 2013
Natural methods of contraception and family planning have been gaining in popularity in recent years as scares over the potential side effects of the pill and other hormonal contraceptives have highlighted the risks associated with long-term use (e.g. cervical cancer, blood clots or anty-nidation mechanism for a newly conceived embryo).
However, the number of women currently practising natural birth control remains low through lack of awareness of alternative products, like Lady Comp, which is clinically proven to provide similar or better levels of reliability and efficacy to invasive, medical contraceptives.
Lady-Comp is a state-of-the-art natural family planning computer that determines a woman's fertile and non-fertile days by recording, analysing and storing data about their menstrual cycle. Using data from 900,000 cycles and bio-mathematical forecasting calculations, it learns and adjusts to a woman's individual cycle regardless of irregularities, and is 99.3% effective when used correctly - comparable to the efficacy of oral contraceptives.
Developed and manufactured in Germany by Valley Electronics, Lady Comp has become Europe's most trusted and recommended natural family planning computer and is now available to women in the UK through dedicated distributor Lady-Comp UK and Ireland. It offers women a healthy and natural alternative to hormonal, barrier and surgical methods of contraception, allowing them to take control of their fertility without risk to their health.
One of the common complaints about natural birth control is the relatively time-consuming nature of some methods, but Lady-Comp is quick and easy to use. The initial set up involves a temperature reading using the computer's thermal sensor and data about menstrual dates, which is compared with pre-programmed information from more than 900,000 cycles to provide an indication of fertility for the next 24 hours and the following six days.
After that, all the computer requires is a temperature reading first thing in the morning to deliver clinically proven accurate predictions of the days in a cycle when a woman can conceive – the day of ovulation and five days prior.
'In order not to become pregnant in this relatively short period of time, many women accept day-in, day-out impairments to their well-being and put a strain on their health by using invasive contraceptive methods,' said Luke Manczak from Lady-Comp UK & Ireland. 'With Lady-Comp these women can enjoy a natural and healthy lifestyle through reliable and effective awareness of their fertility.'
Using Lady-Comp requires no complex tests, no drugs, and it takes less than 30 seconds per day – one of the reasons it is proving popular. 'We have used Lady-Comp for four months now and it not only accurately pinpointed my fertile days, but also the exact date of ovulation,' said Lady-Comp customer Colette Rooney from Dublin. 'It even works with my long cycles (35-40 days).'
For more information, clinical test results and studies, visit http://www.lady-comp.co.uk.