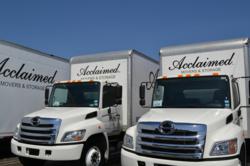 Corona, California (PRWEB) May 28, 2013
The city of Corona's first choice for residential and commercial moving services, Acclaimed Corona Movers, has just added new trucks to offer improved local moving. The new, twenty-four foot, box trucks, which come equipped with lift-gates, greatly improve the efficiency and availability of Acclaimed's local moving services. Additionally, the lift-gates allow Acclaimed to safely and efficiently load items weighing up to twenty-five hundred pounds. With the changes, Acclaimed remains ahead of the competition as they head into the moving industry's most important season. Acclaimed Corona Movers is a full-service, fully comprehensive, luxury moving company.
For more than a decade, Acclaimed Corona Movers has helped local homes and businesses with Riverside moves across the city, across the nation, and even across the world. The company excels in any environment, including moving houses, offices, condos, warehouses, apartments, retail facilities, and restaurants. Each of their Corona movers is a clean-cut, industry veteran, who goes through regular training to ensure that they can properly wrap, pack, and then move any item. The Acclaimed packing service actually strengthens boxes for the journey, and includes the disassembly and reassembly of large items, as well as, the creation of custom moving crates to protect all flat-screen TVs, artwork, antiques, and other delicate or valuable items. For transportation, the Corona movers have a massive fleet of top-of-the-line trucks, all of which come equipped with GPS for efficient navigation and tracking of shipments. If storage is required, Acclaimed maintains space for long-term and short-term periods in their colossal, cutting-edge, climate-controlled storage facility.
Acclaimed Corona Movers continues to provide top quality moving services at economical rates, with a focus on making a lifelong customer out of each person that they help. The company has rapidly become synonymous with affordability, efficiency, and reliability in the moving industry. The new trucks only further Acclaimed's ability to provide moving solutions for all of the local moving needs. If it's time to move a home or business, it's time to get a free, no-obligation quote from Acclaimed Corona Movers. We'll get you moving.