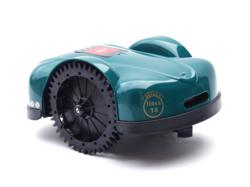 Atlanta, GA (PRWEB) May 24, 2013
Before you start the grill, before you watch the game, kick back with a cup of coffee with Kathie Lee Gifford and Hoda Kotb on the Today Show on Memorial Day. Carley Knobloch, http://www.digitwirl.com, will show cool tech ideas to Kathie Lee and Hoda, including the new LawnBott® LB75 robotic mower.
Kyodo America honors our brave men and women in the military who made the ultimate sacrifice for us. On Memorial Day, get ready for the BBQ, spend time with friends and family and enjoy the day. With a LawnBott® robotic mower, your lawn is always ready to enjoy.
LawnBott® is a line of completely automatic robotic mowers. From the LB3510 for larger yards to the new for 2013 LawnBott® LB75 robotic mower for smaller yards, there is a LawnBott® for almost every yard and home. The LawnBott® LB75 robotic mower is brand new for 2013 and brings robotic mowing to a larger audience offering fully automatic performance at a lower price. With key features such as fully programmable, LCD display, rain sensor, auto-recharging and capable of handling up to 3 zones for the ultimate in yard control, the LB75 sets the standard in affordable automatic mowers. See the video, here: http://youtu.be/6ZKZDkVihJA
Unlike gas powered mowers which strongly pollute the environment, LawnBott® robotic mowers are powered by Li-ion batteries and are smog free. Each LawnBott® only takes about $7-10 per year in electricity to operate and recharges automatically. According to the Environmental Protection Agency (EPA), approximately 54 million Americans mowing their lawns each weekend with gas-powered mowers may be contributing as much as five percent of the nation's air pollution, and use 800 million gallons of gas per year, producing tons of air pollutants.
You can see more of Kathie Lee and Hoda at their website, http://www.kldandhoda.com. Catch video of the show at http://www.Today.com.
Kyodo America Industries, Co., LTD, is an Atlanta, GA based manufacturer of lawn & garden products and the LawnBott robotic mowers. LawnBott's were originally developed in Italy and are making their way across the US and Canada. Since 2000, our robotic mowers have been helping homeowners maintain their yards without the sweat and aggravation of conventional mowers. To find out more information and the dealer who services your zip code, please visit our website at http://www.LawnBott.com.