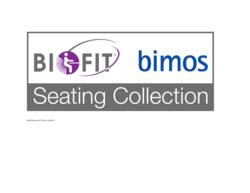 The BioFit bimos collection enables us to reinforce both our commitment to quality and our dedication to design.
Bowling Green, Ohio (PRWEB) May 28, 2013
BioFit, a worldwide leader in quality workplace furnishings, is set to debut the bimos by BioFit collection at NeoCon 2013 in Chicago next month. This series of seating solutions combines design elements from German seating manufacturer bimos with the proven ergonomic performance of BioFit. The first two chairs in the bimos by BioFit collection—Sintec and Fin—are slated for full-scale production soon, with another two selections—Unitec and All-in-One—scheduled for release later in the year.
Both BioFit and bimos are renowned for their emphasis on ergonomic seating solutions for a wide range of workplaces, from laboratories and healthcare facilities to educational environments, industrial settings and offices. By working with the forward-thinking design that bimos provides, BioFit is able to take its line of seating solutions in a bold new direction.
The Sintec chair features a futuristic design that complements modern workspaces. In addition, the Sintec offers an added level of flexibility and convenience with innovative removable seat and backrest pads, which are available in cloth upholstery, vinyl or self-skinned urethane. bimos has built lumbar support into the Sintec backrest that meets the BioFit rigorous ergonomic standards, and the pneumatic control—guaranteed for life by BioFit—ensures the optimal seat height for practically any worker.
Fin offers an ideal solution for workers who would normally spend the majority of their day standing, offering a swiveling seat placed on a forward-leaning column. The Fin's ergonomic design takes stress off of the user's legs and feet, redistributing weight over the wide seat and the inclined column. With slim lines and a sturdy base, the Fin is well-suited to a wide array of work environments, virtually any place where workers are often required to stand for extended periods.
According to BioFit president Ed Metzger, the bimos by BioFit collection, "enables us to reinforce both our commitment to quality and our dedication to design. It's also an opportunity to put our uniquely American stamp on Europe's leading workplace seating manufacturer. We are looking forward to bringing this global partnership to work environments throughout the United States and Canada."
Headquartered in Germany, bimos is Europe's leading designer and manufacturer of specialized seating solutions. Their corporate philosophy is based on combining the latest research and technology with traditional craftsmanship to provide seating that meets the specific needs of individual companies. As an Interstuhl brand, bimos is backed by decades of development and production experience.
Located in Bowling Green, Ohio, BioFit Engineered Products is a leading manufacturer and global provider of LEED-compliant office chairs and stools, GREENGUARD-certified mobile tables, carts and accessories for healthcare, education, laboratory, industrial, technology and office environments. For more information, visit http://www.biofit.com or call 800.597.0246.