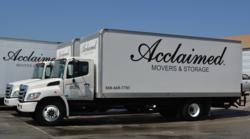 Solvang California (PRWEB) May 29, 2013
Solvang's first choice for residential and commercial moving services, Acclaimed Solvang Movers, has just added reusable picture crates to the materials available for long distance moving. The reusable picture crates, which are used for the proper protection of all types of paintings, pictures, and portraits, are necessary for all moves of over one hundred miles. Now, instead of purchasing the crates, customers can use them, protect their belongings, and then return them upon completion of the move. The new materials further improve the affordability of Acclaimed's incredible long distance moving services. Acclaimed Solvang Movers is a full-service, fully comprehensive, luxury moving company.
For a decade, Acclaimed Solvang Movers has helped homes and businesses with moves across the city, across the United States, and across the world. The company excels at working in all environments, including moving houses, offices, apartments, restaurants, condos, warehouses, and retail facilities. Each of their Solvang movers is an industry veteran, who goes through regular training to ensure that they can properly wrap, pack, and then move any item. The Acclaimed packing service is perfect for all types of belongings, and includes the disassembly and reassembly of large items, and the creation of custom moving crates for all flat-screen TVs, artwork, antiques, and other fragile or valuable items. For transportation, the Solvang movers have a fleet of top-of-the-line trucks, which are powered by an eco-friendly bio-diesel fuel. Furthermore, if storage is required, Acclaimed maintains space for long-term and short-term periods in a colossal, climate-controlled, secure storage facility.
Acclaimed Solvang Movers provides unparalleled moving services at unbeatable rates, with the goal of making a lifelong customer out of each person that they help. The company has rapidly become synonymous with affordability, efficiency, and reliability in the moving industry. With the reusable picture crates, Acclaimed is saving the customers money on every long distance move, while still providing the same great services. When it's time to move a home or business, it's time to get a free, no-obligation quote from Acclaimed Solvang Movers. We'll get you moving.