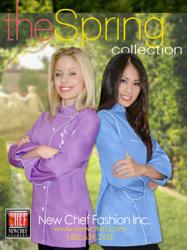 "If You Look Good,
You Feel Good,
You "Cook" Good"
Los Angeles, CA (PRWEB) May 28, 2013
The Newchef Spring Collection catalog introduces a wide array of fashionable, executive and reasonably priced chef jackets for women, comfortable chef pants, designer blouses and waitress aprons. This ladies collection was created with women in mind, allowing them to cook and work in style with all the comfort they deserve.
When Lucien Salama, CEO of Newchef Fashion Inc., created the company in 1989, culinary apparel was drab and unappealing. By choosing elegant fabrics, decorative trims and ribbons, colorful prints, and slimming "V" Lines have made restaurant staff look as delectable as their food tastes.
Once more, the designing team of Newchef-- based in Los Angeles, one of the leading fashion capitals of the world and heart of the ever-evolving textile industry-- has carefully selected fabrics and crafted coats and work wear to create an exclusive collection of uniforms for ladies. Newchef Fashion created this catalog exclusively for women to honor ladies in the workplace.
This catalog stands out in particular for having such an eclectic variety of styles and colors; it truly features something for everybody. Customers will choose between the spring, executive, elegant or "econo" collection for their new chef coat. Newchef has also developed an earth-friendly collection of chef coats and aprons made of 100% Organic Cotton, because it is important for the company to contribute saving the environment. The rest of the catalog features many different styles of aprons, blouses and chef pants. For additional information, our latest styles can be viewed at http://www.newchef.com.
About Newchef Fashion Inc.
Newchef Fashion Inc is one of the main players of the uniform world, and has revolutionized the industry with unique, fashionable and moderately priced uniform. Newchef creates uniforms for the entire staff including chef, wait staff, housekeeping, bellman, valet... As a one-stop shop for your uniform needs, Newchef knows how to listen, and has great employees working together to make each clients' project happen. The company is known for their responsiveness, flexibility and utmost quality.