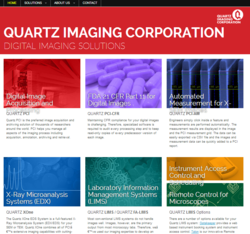 Vancouver, BC Canada (PRWEB) May 28, 2013
The new Quartz Imaging website has been designed to make it easier for visitors to find the Quartz solution they are looking for. The new site's home page identifies the primary product categories of Quartz solutions: Digital Image Acquisition and Processing; FDA 21 CFR Part 11 for Digital Images; Automated Measurement for X-SEM Images; X-Ray Microanalysis Systems (EDX); Laboratory Information Management Systems (LIMS); Instrument Access Control and Scheduling; and Remote Control for Microscopes.
The new website also features recorded webinars to help existing users get the most out of Quartz PCI and help anyone considering using Quartz PCI realize the potential that it has to improve their lab's imaging work. The currently featured webinars are: Organizing, Saving and Accessing your Data, Generating Reports; and Measuring, Annotating and Processing Tips and Tricks.
About Quartz Imaging Corporation – Quartz Imaging has worked closely with semiconductor companies since it was founded in 1993, including the development of our industry leading Failure Analysis LIMS system (FA-LIMS) and is in the process of developing a LIMS system for semiconductor Reliability Labs (REL-LIMS). Quartz Imaging has more than 2,000 customers in 38 countries utilizing our industry leading solutions for Digital Image Acquisition and Processing (for most image producing instruments including SEMs, TEMs, STEMs, Tabletop SEMs, Cameras, PC Based Instruments, Scanners); 21 CFR Part 11 Compliance; Laboratory Information Management Systems (LIMS); Instrument Access Control; Instrument Remote Control; Automated Inspection Systems for Nanotechnology; X-ray Microanalysis (EDX/EDS) Systems and more. http://www.quartzimaging.com