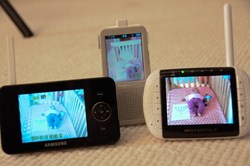 Once you've used a video monitor for a while, you'll find yourself hooked.
Cheyenne, WY (PRWEB) May 24, 2013
BabyGearLab.com, a web-based baby product review site founded by pediatric physician Juliet Spurrier, MD, also provides helpful articles on safety and health as well as buying advice guides for reviewed items and baby shower gifts. Dr. Spurrier's professional and first-hand experiences with babies and young children inspired her to co-author another buying advice article, this one entitled, "How to Pick the Best Video Baby Monitor for You and Baby" in order to inform new parents on which features to consider when looking to buy a device to view their baby when they are not in the same room.
Dr. Spurrier knows how difficult it can be to make all the necessary purchasing decisions while expecting and raising a baby, which is why she founded BabyGearLab. When it comes to video baby monitors in particular, Dr. Spurrier understands the importance of getting enough sleep when caring for little ones. "Anything you can do to optimize your sleep as a mom will help not only you and your mental and emotional health, but the entire family's as well," she said. "The right monitoring device can help with fulfilling this need."
"The question then becomes whether or not to add the visual component. What the video can do is help caregivers see from a distance whether or not baby's eyes are open or closed, which can better help them determine if it's necessary to tend to the baby, or let the baby self-soothe him or herself back to sleep," Dr. Spurrier explained.
As such, the critical feature to focus on is the image quality and the ability to remotely zoom in on the baby's face. If the monitor doesn't have the capability to pan or tilt from a hand-held remote, then the benefits (and respective costs) of having the visual aspect become limited.
The article goes on to discuss the benefits of sound activation and clarity, the screen size, and the best place to mount the equipment. "Make sure you can return the video monitor after testing it out at home, because it's critical that it works at its greatest capability where you need it to," she added. "You can get very used to relying on your video baby monitor, so you want to get the best one for your family." To learn more about these and other features in eight top-selling models, BabyGearLab has published a "Best Video Monitor Review."
About BabyGearLab
BabyGearLab.com is an online service founded in 2012 by a board-certified pediatrician. Its mission is to create clarity around the entire baby product purchasing decision process through comprehensive hands-on testing. Besides its world-class reviews, BabyGearLab offers other complimentary services, which include buying advice guides, informational articles on related safety and health issues, and a Baby Shower Gift Guide.