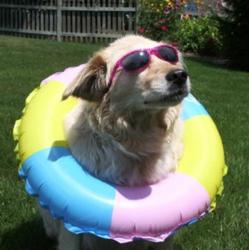 When you lose a pet, you lose a part of the family.
(PRWEB) May 28, 2013
So many pets are treated like part of the family.
Thousands of families deal with the grieving process every year. The City of Edmonton Animal Care & Control Department stats for 2012 show 98,812 cats and dogs were licensed (of those 66,433 were dogs, 32,379 were cats). 15,463 pet licenses were deleted in 2012 (of those 10,016 were dogs). Not to mention the countless pet horses, rabbits, gerbils and so on.
Part of The Family Pet Memorial Centre has created Northern Alberta's first full service pet funeral home. Providing everything from cremations to farewell celebrations to the most fun, furry adventures. If you can dream it, Part of The Family will help make your fitting farewell happen.
Pet owners these days are looking to celebrate their pets in so many different ways.
Part of The Family not only helps pet lovers with the "goodbye" process, they're also bringing pets without homes together with the many pet lovers in and around Edmonton. Hosting Pet Adoption Days, in partnership with the likes of Infinite Woofs Animal Rescue and Sundance Canine Rescue Society. All with the common goal of helping some loveable creatures find a new home.
A celebration of life in so many ways!