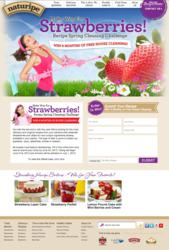 Salinas, CA (PRWEB) May 29, 2013
Today, Naturipe® Farms officially launches its first "Make Way for Strawberries Recipe Spring Cleaning Challenge," kicking off today and continuing through June 20th. The international, grower-owned, producer and marketer of good-for-you berries, including strawberries, challenges bloggers and consumers to "clean out" their pantries and use not-so-typical ingredients to create their most innovative recipes for a chance to win six months of house cleaning.
The recipe contest is geared toward creating original and, perhaps unusual, recipes using strawberries and encourages participants to use things they can already find in the pantries. Participants have the chance to win on a weekly basis and the chance at the grand prize after the close of the contest. The weekly prize will be a $50 gift card and the grand prize, free house cleaning for six months (a $500 value).
A panel of in-house food specialists will judge based on criteria such as the significant use of strawberries, originality, flavor, etc. As for originality, participants are urged to think outside the box – strawberries aren't only for desserts. Recipes will be uploaded and available on the Naturipe website, where visitors can look through the submissions and vote on their favorites.
"Strawberries not only have nutritional benefits and taste delicious, they also are surprisingly versatile," says Kyla Garnett, marketing manager for Naturipe Farms. "The recipe contest is a great way to promote the peak of strawberry season. We're excited to see what innovative recipes people come up with while experimenting at home."
For more information on Naturipe Farms and to enter the contest, visit http://www.naturipefarms.com. Stay up-to-date by following Naturipe Farms on Facebook and on Twitter @Naturipe.
About Naturipe Farms
Naturipe Farms LLC, is an international, grower-owned producer and marketer of wholesome, good-for- you berries; fresh and value-added. The company sources products from throughout North and South America to ensure year-round availability for "locally grown" and in-season conventional and organic berries. Naturipe Farms, formed in 2000, is a partnership between Hortifrut SA, MBG Marketing and Naturipe Berry Growers and Munger Farms with locations in Salinas, CA; Delano, CA; Grand Junction, MI; Everett, MA.
###