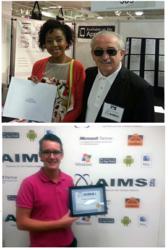 With the success of the first year, we are adding three classes this year.
Los Angeles, CA (PRWEB) May 30, 2013
AIMS360 the industry's leading apparel ERP software recently handed out awards to the college students who distinguished themselves in fashion programs across Southern California.
The awards, in the form of AIMS Certification certificates valued at $500, were given to community college students who submitted projects which received honors at the recent California Community College Fashion Symposium hosted in the California Market Center in downtown Los Angeles. Those receiving honors were Adneisha White of L.A. Trade Tech College, Brandon Killman of Fullerton City College, Jalen Harrison of Long Beach City College and Marie Hencel of Saddleback Community College.
The AIMS360 system was part of the curriculum for other programs. It was taught in an Apparel Merchandising and Management program course at Cal Poly Pomona along with software from other companies such as Tukatech and Critical Mass MFG.
Alex McNulty, a Cal Poly Pomona graduating honor student, presented his graduation project at a special meeting for the Board of Advisors at the Cal Poly Pomona. As part of his business strategy Alex used AIMS360 to manage clients, sales orders, materials costing, cutting tickets, and most importantly, invoices. "AIMS was integral for production management, materials management and sales management," says Alex McNulty. Although the AIMS program is taught annually, this is the first year AM2 used AIMS to manage all aspects of production and post-production stages. Alex was awarded his AIMS Certification.
At Saddleback College in Orange County, students learning to build e-commerce shops took a class in AIMS360's program EasyShop B2C e-commerce shopping carts.The course covered building their online store with full web administration, credit card processing, secure customer shopping, and many other features specific to apparel. The top 5 shopping cart winners that received AIMS Certification Training Certificates were:
Marian Drum
Nestle Monai
Misty Orzechowski
Jazmin Redichttp
Sosan Sayad
To view their shopping carts, click here.
FIDM is now going into their second year of teaching the AIMS system. "With the success of the first year, we are adding three classes this year," says Henry Cherner, Managing Partner of AIMS 360 and Adjunct Professor. AIMS will be awarding more Certifications to top students at FIDM later this year.
AIMS EDUCATION
AIMS was first introduced to students at LA Trade Tech College in 1997. Knowing the ins and outs of the fashion industry and what fashion students were being taught at various trade schools and colleges, Henry Cherner saw that there was a gap that still needed to be filled between designing, merchandising, etc. and business concepts. Henry and his founding partner of AIMS, Scott Chaban, had built a successful automated tool for inventory management, order taking, shipping, accounting, EDI , etc. and saw that there was a strong tie between classroom education, technology and an evolving clothing manufacturing business world and that students within this industry needed more than just a fashion sense to be successful. So, Henry was brought in from industry to create a curriculum for Fashion Merchandising Math/Costing program and instituted it into various fashion programs. As time went on and the AIMS software itself started to evolve, and there was a need of more people to better understand how manage and apparel ERP Software, so Henry created an AIMS Certification program. The program itself teaches how to use an inventory management software (on the AIMS platform) and how to automate the many facets of the apparel industry using the system.
AIMS 360 is dedicated to educating and training of future stars in the apparel industry. AIMS is currently being taught at colleges and trade schools such as Los Angeles Trade Technical College, Art Institute of CA San Diego, Cal Poly Pomona AMM, UCLA Extension, Saddleback College Irvine, FIDM, and will be adding more colleges and trade schools in 2013.
ABOUT AIMS 360
AIMS 360 offers a fully integrated apparel ERP inventory software solution for importers, distributors and manufactures of apparel, footwear, handbags, accessories, jewelry, home furnishings and other fashion goods. With over 25 years of experience, AIMS ties cutting-edge technology with all facets of your business. AIMS 360' product suite is comprehensive, feature-rich, user-friendly, easy to implement and is compatible on a laptop, PC, Mac and iPad. Solutions are available for on-site applications and in the cloud.
A Gold Level Microsoft ISV Partner and Gold Level QuickBooks developer, AIMS 360 provides the most professional, up-to-date program possible, including AIMS GL Integration™ with QuickBooks, AIMS EasyShop™ online e-commerce retail shopping cart, AIMS WebLink™ online wholesale shopping cart, UPS , FedEx and USPS shipping integration, AIMS RemoteLink™ for iPad™ and Windows for order taking at trade shows and off-site locations, Business Analytics for iPad and the easiest-to-use EDI Integration.
AIMS 360 delivers all of this at affordable prices. From materials to finished goods, our fashion software is easy-to-use, customizable and low-cost. No matter if you are a new business or are an existing small, medium or large organization, AIMS 360 is your ERP solution and is here to help you grow!
Find out why so many apparel businesses rely on AIMS360 since 1984!
Call (310) 361-5710 or (646) 873-7675 | info(at)aims360(dot)com | http://www.aims360.com