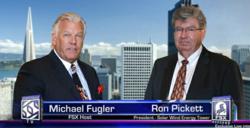 Solar energy, wind energy are great but it's expensive.
San Francisco, California (PRWEB) May 29, 2013
During the recent FSX Investment Conference held at the Ritz-Carlton in San Francisco, California, Ron Pickett, President of Solar Wind Energy Tower, granted an exclusive interview available on Solar Wind Energy Tower's Public Profile on Interlinked's IDeal Room.
Solar Wind Energy Tower, Inc, a renewable energy company, has declared its intent to build two clean energy towers in locations in the United States and Mexico. Using proven existing technology and construction systems, the company plans to complete construction and produce abundant, cheap electricity with zero-to-minimal environmental effects using only hot air and water as fuel sources.
The renewable energy company has based one project in San Luis, AZ, and another sister project in San Luis, Mexico. Both towers have already been designed and engineered, and are currently awaiting construction. Working closely with an expert constructor of nuclear cooling towers, the towers have been scaled up for the needs of producing large amounts of electricity.
The Solar Wind Downdraft Tower is a tall hollow cylinder, equipped with an elaborate injection system for water at the top. Pumps deliver water to the Tower's injection system and it is projected as a mist across the opening. The water carried by the system evaporates and is absorbed by hot dry air in the cylinder – air which has been warmed by the sun. The air swiftly cools, becoming denser and heavier than air outside the cylinder. It then falls down the interior of the cylinder, reaching 50+ mph before being channelled into wind tunnels at the foot of the Tower. This channelled air then hits turbine generators to produce a large volume of electricity.
Ron Pickett, President of Solar Wind Energy Tower, was attending the FSX Interlinked conference and commented: "We're working on identical towers both one for Mexico and one for the United States at the same time. The towers are a tall, hollow cylinder – you look at a nuclear power plant, you see the cooling tower? It's a cooling tower. The contractor building it for us builds cooling towers all over the world and have re-engineered it to size it up for our needs."
Speaking about the efficiency and cost of the towers, Mr Pickett added: "Our fuel source is hot air and water. Zero emissions. We make electricity at a cost comparable to that of an oil-fired plant or a gas-fired plant."
Mr Pickett continued: "Solar energy, wind energy are great but it's expensive. One of the issues is that we're paying for that when we can burn oil and make energy at 6 cents a kilowatt versus a solar facility that only makes it during the day and costs 18 or 19 cents a kilowatt. I'm all for solar, I'm all for traditional – but I'm really for a business that makes money. I'm really for a clean way to make energy that doesn't cost any more than a dirty way to make energy."
Mr Pickett confirmed that the public sector would be providing assistance to the project, stating: "This first site in Arizona is on Department of Interior land, so it's a very beneficial lease there. It's next door to a Department of Defense facility. We have agreed to give them some power as well, which is part of a joint effort the two Secretaries announced last year."
To view the complete interview, visit Solar Wind Energy Tower's public profile on Interlinked..
ABOUT SOLAR WIND ENERGY TOWER, Inc
Solar Wind Energy, Inc. (Solar Wind Energy) a wholly owned subsidiary of Solar Wind Energy Tower, Inc., was established to commercialize a number of proven and validated technologies and construction systems into a single large Solar Wind Downdraft Tower structure that produces abundant inexpensive electricity.
Solar Wind Energy has, designed, engineered, developed and is preparing to construct large "Solar Wind Downdraft Towers" that use benevolent, non-toxic natural elements to generate electricity economically by integrating and synthesizing numerous proven as well as emerging technologies.
ABOUT INTERLINKED
Interlinked is designed to be the most efficient and powerful system available in assisting its members in finding one another, building relationships and ultimately do business together. Interlinked is a private network and it is not open to the public. You must be invited or apply to be part of the community. Our proven process utilizes four primary systems: one, through our custom automated campaigns (IRocket), second through media InterlinkedTV, thirdly our Ideal room, fourth, through our relationships with strong partners and events. For more information go to http://www.interlinked.com.
Safe Harbor Statement
This press release may contain information that constitutes forward-looking statements made pursuant to the safe harbor provisions of the Private Securities Litigation Reform Act of 1995. All statements, trends, analysis, and other information contained in this press release, including words such as "anticipate," "believe," "plan," "estimate," "expect," "intend," and other similar expressions of opinion, constitute forward-looking statements. Any such forward-looking statements involve risks and uncertainties that could cause actual results to differ materially from any future results described within the forward-looking statements. Risk factors that could contribute to such differences include those matters more fully disclosed in the Company's reports filed with the Securities and Exchange Commission. The forward-looking information provided herein represents the Company's estimates as of the date of the press release, and subsequent events and developments may cause the Company's estimates to change. The Company specifically disclaims any obligation to update the forward-looking information in the future. Therefore, this forward-looking information should not be relied upon as representing the Company's estimates of its future financial performance as of any date subsequent to the date of this press release.