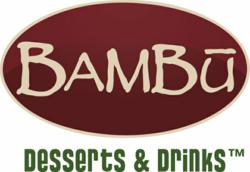 Atlanta, Georgia (PRWEB) May 24, 2013
Bambu Desserts & Drinks, the renowned San Francisco Bay Area Vietnamese dessert drinks and coffee chain, announced today the grand opening of its first shoppe in Georgia. "Chè-mania is spreading across the U.S. as the love and demand for our chè continues to grow," said Kelly Nguyen, co-founder and CEO of Bambu Desserts & Drinks, Inc. "Chè is a type of Vietnamese dessert. We say Bambu chè is enjoyment in a cup."
The grand opening at 5495 Jimmy Carter Boulevard, Norcross, Georgia is scheduled for Saturday, May 25 starting at 9:00 am. "I fell in love with Bambu the first time I heard about," said Phuong Ta, owner of Bambu Atlanta. "Once I experienced Bambu I had to open a shoppe." In less than four months Phuong is having her Bambu Grand Opening.
Bambu Atlanta is located in the heart of Hong Kong Mall, also known as Oakbrook Square Shopping Center or Ben Thanh Plaza, off Jimmy Carter Boulevard just east of Interstate 85 in Norcross, Georgia. This Asian centric shopping center serves Georgia's Asian communities including Vietnamese, Chinese, That, Laos, Korean, Filipino, Cambodian and Burmese.
"Phuong is one of the most passionate owners we've ever met and know that she is committed to sharing Bambu's unique experience with fellow Atlantans," continued Kelly Nguyen. "My sisters and I are proud to share Bambu Chè with new communities and we always hope that they enjoy our desserts as much as we do."
Bambu Desserts & Drinks was founded in 2008 by four sisters in San Jose, California. With sixteen new shops opening in the past 18 months, Bambu has become nationally known for its fresh, healthy and colorful Vietnamese-inspired chè, fresh coconut drinks, Vietnamese espressos, blended coffees, and exotic smoothies. Their menu has nearly 100 desserts, coffees, teas and drinks to select from, but you can order any item "just the way you love it" including extra jellies, pearls, or shots of espresso.
For more information on Bambu Desserts & Drinks visit http://www.drinkbambu.com.