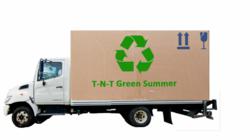 Charlotte, NC (PRWEB) May 26, 2013
Tom Koepke and Todd Tulowiecki, owners of T-N-T Moving Systems are preparing for the 2013 moving season with an aim to make moves as green as possible. Moving can create a lot of waste and according to Tom, "Sometimes as much as half of the waste in cardboard is avoidable." T-N-T is demonstrating their commitment to Charlotte and the surrounding community by announcing their Green Summer program. T-N-T's Green Summer doesn't refer to the weather. T-N-T is prioritizing environmentally responsible moves with a new emphasis placed on proper packing that minimizes waste and recycling of materials.
T-N-T is a full-service moving company and one of the many services they offer is box delivery and pick up. Tom and Todd will reuse as many boxes as possible to insure as little waste as possible. And Tom and Todd are encouraging clients, saying, "Packing properly is more important than ever. It's good for the client and it's good for the environment."
Packing carefully can mean fewer materials are used, not only boxes, but packing materials. And Todd points out that learning to pack properly is only part of the solution. "People often don't pack well, because they don't plan well." Staying realistic about the time that will need to be set aside to prepare for a move can help clients pack better, prepare better, save materials and keep items from being packed improperly, which can lead to damage and breakage.
Another reason Tom and Todd meet with their clients to properly plan their moves is that planning saves money. Many moves end with clients spending months and even years, sorting through clothes, household goods, and nic nacs that they will ultimately decide to donate or throw out. "When the rush is on, everything gets tossed into boxes and it costs money to move it," says Todd. Proper planning helps stuff get moved to the right place the first time. Why pay to move everything twice AND the second time, on your own? Given enough time to plan a move, clients can decide on the spot what goes to a donation center, what goes to the curb and what goes in the trash. Tom and Todd can take one load straight to a church or donation center. This saves time and guess what....gas!
Planning is a focal point in all green efforts. There is so much waste that can be prevented or eliminated with proper planning. Using less gas and boxes and getting things to the right place the first time, all add up.
Of course, Tom and Todd can really help with the packing, they say. "Knowing the amount of time you have to pack doesn't help everyone. Some people are simply put into a crunch because of the nature of a home sale; others are given last minute instructions by an employer. Still others have physical limitations that won't allow them to do the heavy work, including the bending and stooping, needed to pack properly.
Tom and Todd are committed to planning a green moving season. That's what T-N-T's Green Summer will accomplish. They want to do it for their clients, the environment and their community. "Charlotte is growing," says Todd. "Growth is great, but it has to done correctly. Uncontrolled growth is dangerous and this is part of what we can do to help."
Buying or selling real estate this summer? Congratulations - make sure the move makes you as happy as the home. Call Tom Koepke and Todd Tuloweicki at T-N-T Moving Systems and plan the perfect move. Tom and Todd can be reached at 704-523-1455 or checkout their website at http://www.tntmovingsystems.com.