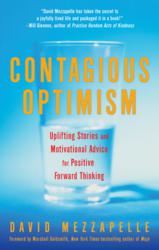 Reading Contagious Optimism will allow you to appreciate and understand the principles that people of all backgrounds live by through their life's adventure.

— Daniel P. Tully
(PRWEB) May 27, 2013
Successful entrepreneur David Mezzapelle will promote the launch of Contagious Optimism: Uplifting Stories and Motivational Advice for Positive Forward Thinking with several author signings at Book Expo America in the coming week. Contagious Optimism, a practical guide to forward thinking, includes over one hundred stories and parables of amazing life turnarounds and contagious insight from real people around the globe, as well as advice and guidance from business leaders, visionaries, and professionals. Contributors include Ricky Wade, Daniel Tully, Nancy Ferrari, and Marshall Goldsmith.
In conjunction with his appearance, Mezzapelle will hold a drawing to win a $1,000 gift certificate for Fairfield University. The prize also includes a private tour and lunch at the campus.
Stop by and meet David, and join the optimism revolution with Viva Editions.
Author signings:
Friday, May 31, 11am-12pm at the Viva Editions Booth #1231A
Friday, May 31, 1-2pm at Table 9 in the Autographing Area
David Mezzapelle has been motivating others to be positive since his childhood. Mezzapelle was the founder and director of marketing for Goliath Technology, a leader in data center infrastructure that supported corporations, schools and government agencies worldwide. In addition, he orchestrated one of the most innovative academic internship programs ever created. Throughout his life he has encountered great peaks and valleys, all of which he is thankful for. He never lost sight along the way and has kept his positive attitude and confidence at 110 percent. A regular contributor to the Wall Street Journal and various other international publications, Mezzapelle has been a frequent guest on radio and television. He resides in Jupiter, Florida with his wife, Courtney.
A portion of the proceeds from for Contagious Optimism will go to Fairfield University and various charities.