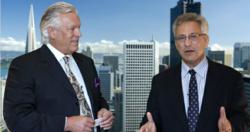 Our technology is the only technology that can identify a human being from a non-human being.
San Francisco, CA (PRWEB) May 29, 2013
At the recent FSX Investment Conference held at the Ritz-Carlton in San Francisco, California, Ken Brown, CEO of the Vehicle Occupancy Detection Company, granted an exclusive interview available on Vehicle Occupancy Detection Company's Public Profile on Interlinked's IDeal Room.
Vehicle Occupancy Detection Company, a company based in San Rafael, California, has announced the launch of a proprietary short-wave infrared device which can be used for the purpose of counting occupants in a moving vehicle. Entering the $52 billion a year market for intelligent transportation systems, Vehicle Occupancy Detection Company's system is bringing a new, unique product to the market.
The product works by utilizing a series of highly specialized short-wave infrared cameras and lasers in sync, which allow the accurate counting of occupants in a moving vehicle. The technology also allows the system to accurately distinguish between human occupants and objects, such as those used to evade penalties by installation in the passenger seat. The first company to have developed and patented this product in a huge but overlooked market, it will allow the enforcement of car pool lanes and the collection of billions of dollars of currently lost revenue.
Ken Brown, CEO of Vehicle Occupancy Detection Company, stated that: "The biggest problem with counting people through automotive glass is that it's extremely difficult and even if you could look through glass effectively it would be virtually impossible to tell the difference between a blow up doll, a photograph, or a human being. Our technology is the only technology that can identify a human being from a non-human being."
Mr Brown continued with an explanation of how the technology works: "We don't look through the windscreen with visible light – we do so with short-wave infrared light. Even short-wave infrared light, which has been tried for the last 30 years, doesn't work. It's how we flood the car with different frequencies and manipulate it. This is based on the fact that the red blood cells in your body reflect certain short-wave infrared frequencies at different rates. By flooding the car with these wavelengths, then taking a picture at these wavelengths, and then superimposing the pictures onto one another we're able to differentiate between a human being and a non-human being."
When asked about the physical location of each device, Mr Brown commented: "The camera will be quite small. We will place them next to carpool lanes and toll roads but the future of transportation and the most efficient use of our infrastructure is to charge people a toll based on the number of people in a car, the time of day, the average speed of traffic, and the length of your trip. Our technology is the only technology that will allow this to happen. Just in case you're thinking 'It will never come to this' let me point out that the new $2billion dollar capital beltway in Virginia already allows you to pay a little bit more if you don't have 3 occupants to avoid traffic congestion. I also want to point out the cost of congestion to you personally; congestion costs each commuter an average of 42 hours a year, an additional $950 dollars of expense for being stuck in traffic."
To view the complete interview, visit the Vehicle Occupancy Detection Company's public profile on Interlinked's IDeal Room.
About Vehicle Occupancy Detection Company
Vehicle Occupancy Detection Company is a technology company which provides advanced solutions to traffic management and low-level law enforcement on North America's roads. Working with state of the art camera and infrared technology, the company is part of a $52 billion dollar annual industry in regulating highways, freeways and smaller roads.
About Interlinked
Interlinked is designed to be the most efficient and powerful system available in assisting its members in finding one another, building relationships and ultimately do business together. Interlinked is a private network and it is not open to the public. You must be invited or apply to be part of the community. Our proven process utilizes four primary systems: one, through our custom automated campaigns (IRocket), second through media InterlinkedTV, thirdly our Ideal room, fourth, through our relationships with strong partners and events. For more information go to http://www.interlinked.com.
Safe Harbor Statement
This press release may contain information that constitutes forward-looking statements made pursuant to the safe harbor provisions of the Private Securities Litigation Reform Act of 1995. All statements, trends, analysis, and other information contained in this press release, including words such as "anticipate," "believe," "plan," "estimate," "expect," "intend," and other similar expressions of opinion, constitute forward-looking statements. Any such forward-looking statements involve risks and uncertainties that could cause actual results to differ materially from any future results described within the forward-looking statements. Risk factors that could contribute to such differences include those matters more fully disclosed in the Company's reports filed with the Securities and Exchange Commission. The forward-looking information provided herein represents the Company's estimates as of the date of the press release, and subsequent events and developments may cause the Company's estimates to change. The Company specifically disclaims any obligation to update the forward-looking information in the future. Therefore, this forward-looking information should not be relied upon as representing the Company's estimates of its future financial performance as of any date subsequent to the date of this press release.