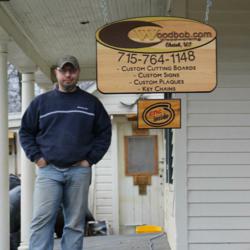 (PRWEB) May 27, 2013
Robert Wendt, owner of Woodbob.com Woodworking, is always thinking of new and exciting ideas for his durable, handcrafted cutting boards. To him these boards are more than just a surface to cut on, they are of the highest quality and provide an excellent style to anyone's kitchen. Woodbob.com Woodworking is based in Chetek, WI, in a small work shop, behind Robert's home. Due to his determination and hard work, Robert has turned a woodworking hobby into a business of great potential.
With all the imaginative ideas that are created, Robert is introducing his own end-grain style cutting board. These boards are great space savers and work for any occasion one may have. The end-grain style cutting board is beautifully detailed and Woodbob.com Woodworking offers personalized engravings as well upon request.
Robert strives to make each cutting board unique in its own way. Through his Etsy webpage he has been able to showcase his work of state shaped cutting boards, custom-shaped boards, signs, puzzle boards, custom engraved knives, and so much more. And his hard work and dedication to doing something he absolutely loves makes every piece of work that he creates even more memorable.