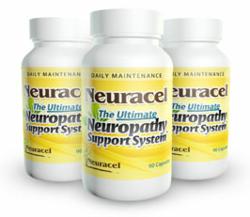 Boise, Idaho (PRWEB) May 25, 2013
A disorder of the nerves, Diabetic neuropathy is the most prevalent type of peripheral neuropathy. According to neuropathy expert doctor Helen C Lin, on Medscape at http://goo.gl/aLMtn, it is estimated that the disorder affects almost 50% of all Diabetic patients, making neuropathy the most common complication arising from Diabetes. The high blood sugar levels in the body are the original cause of Diabetes and patients suffering from it usually tend to have abnormally high blood sugar levels. When these levels remain dangerously high over a prolonged period of time, the various nerves in the body undertake damage which results to Diabetic neuropathy.
Neuracel – Treating Neuropathy Naturally
Due to the advancement in science and technology, there has been a shift away from traditional medicine to natural remedies. Experts at Neuracel believe that herbal medicine has a huge part to play in treating major medical conditions and this is precisely what the Ultimate neuropathy support system is aimed to do.
By fusing together a unique combination of five different herbs including California poppy, Prickly Ash Bark, Lobelia, Passion Flower and Corydalis, the Ultimate neuropathy support system delivers instant results as far as pain relief is concerned. All the herbs play their own distinct part in helping manage the symptoms and this is what makes the product so effective. Furthermore, another distinct feature of the product is that it delivers short term as well as long term results. Not only are users able to feel better after a short while after its use, but the positive changes can continually be felt.
About the Company
Determined to bridge the gap between traditional and modern medicine, Neuracel is firmly established as one of the leading pharmaceutical companies. By delivering high quality and safety in equal measure, its products are the hallmark of medical innovation. For further information regarding Neuracel, please visit http://www.neuracel.com/specialoffer.php. The prices and range of products of Neuracel can be found on http://www.neuracel.com.