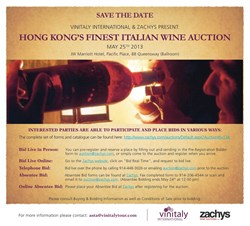 Vinitaly auctions Italian Wines with Zachys in Hong Kong
Hong Kong, China (PRWEB) May 25, 2013
Vinitaly International debuts with auction house Zachys in Hong Kong to sell a selection of exceptional Italian wines to eager Asian collectors in the world's largest auction market. As Italian lifestyle products, luxury brands and fine food enjoy steady growth in Hong Kong, well-heeled Asian consumers expand their appreciation also for fine Italian wines. Todays "Finest Italian Wine Auction" featuring a selection of extraordinary vintages with impeccable provenance directly from the Italian wineries fetched good prices.
According to Stevie Kim, Managing Director of Vinitaly International: "Our modest but solid showcase today here in Hong Kong proved to be yet another new opportunity to unveil the excellence of Italian Wines to China and the rest of Asia. Vinitaly is committed more than ever to target this area with a stronger and united voice to make Italian Wine a key player in the Fine and Rare Wines. If it means we have to facilitate an annual auction, we will do this. Our leitmotiv "whatever it takes" has never been more to the point."
The great winner amongst the Italian wines was Livio Felluga as his lots of Terre Alte and Sosso white wines fetched 26.000HKD, much higher than anticipated. Another exceptional lot of the two-day event was a special family gallery reserve of Tenuta Santa Maria della Pieve (Bertani) from 1928 which sold for 55.000HKD.
As current prices for Bordeaux wines are dropping and the market continues to diversify, rare Italian wines are in high demand in the world's largest auction market with Asian collector circles either purchasing wines as a secure investment or a gem for the wine cellar.
Despite being lesser known in Hong Kong, some Italian wines fetched good prices:

Marchesi Antinori 24.000HKD
Tenuta Santa Maria alla Pieve (Bertani special reserve) 55.000HKD
Tentuta San Guido - Sassicaia 30.000HKD
Franco Biondi Santi – Tenuta il Greppo 11.000HKD & 18.000HKD
Marchesi di Frescobaldi 14.000HKD, 13.000HKD, 14.000HKD, 16.000HKD
Tenuta dell'Ornellaia 13.000HKD, 6.500HKD
Marchesi Di Barolo 13.000HKD
Cantina Argiano 26.000HKD
Arnaldo Caprai 12.000HKD & 4.400HKD
Poderi Luigi Einaudi
Masciarelli 15.000HKD
Carpineto 24.000HKD, 24.000HKD, 14.000HKD, 17.000HKD, 8.500HKD, 9.000HKD
Castello Di Ama 11.000HKD
Tenuta Di Biserno 6.500HKD, 11.000HKD, 11.000HKD
Tenuta Borgogno 9.000HKD, 22.000HKD
Livio Felluga 26.000HKD
Fèlsina
Allegrini Estates 8.500 HKD
Castello Banfi 22.000 HKD
Ferrari F.lli Lunelli
Poderi Luigi Einaudi 14.000HKD
Zenato 10.000HKD
According to Wine Spectators latest survey the Hong Kong auction market was estimated US$22.6 million or HK$175 million in the first quarter of 2013, with an the average price per lot of US$4,095 or HK$31,783. According to the latest HKTDC data, the overall wine imports to Hong Kong dropped last year by 17,7%, with another 2,4% decline in the first three months of 2013. Italian wine ranks at the 5th place for imports by origins with France being number one at 56,5% market share, yet France continues to loose ground after a 24% drop in 2012 and -1.1% in the beginning of 2013. Italy gained almost 20% last year, with a 6% decline for the first three month of 2013. Overall the market has performed exceptionally. In 2012, imports of wine amounted to HK$8.1 billion, a four-fold increase from 2007. Hong Kong has the region's highest annual wine consumption, at 5,3 litres per person - double the Japanese and Singaporean levels.
About:
Veronafiere is the leading organizer of trade shows in Italy including Vinitaly (http://www.vinitaly.com), the largest wine event in the world. The 47th edition of Vinitaly counted some 148,000 visitors (+6%), of which 53.000 were international attendees (+10%) visiting from 120 countries. On 95.000 square meters, 4.200 exhibitors welcomed trade professional, media and producers alike. The next instalment of the fair with take place on 6th-9th April 2014. The premier event to Vinitaly, OperaWine (http://www.OperaWine.it) "Finest Italian Wines: 100 Great Producers" will unite international wine professionals on April 5th 2014 in the heart of Verona. Veronafiere also created Vinitaly International http://www.vinitalytour.com in 1998 to develop a global platform for the promotion of companies in the Italian wine and food sectors.
# # #