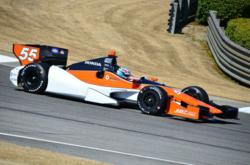 Tristen Vautier is a tremendous driver and we are couldn't be more excited to sponsor his car for the greatest race in the world
(PRWEB) May 25, 2013
Vautier, the 2012 Firestone Indy Lights champion is starting his first Indianapolis 500 in the 28th position after posting a four lap average of 224.873 MPH. Vautier is competing alongside Simon Pagenaud and Katherine Legge in the three car Schmidt Peterson Motorsports Indy 500 stable.
"Indy Trading Post is very happy to be working with a great team like Schmidt Peterson Motorsports", stated owner Brian Ludlow, "Tristen Vautier is a tremendous driver and we are couldn't be more excited to sponsor his car for the greatest race in the world"
Vautier in his first full season of IZOD IndyCar competition has been very competitive in the Honda powered machine scoring a top 10 finish in the Grand Prix of Birmingham.
"The Indianapolis 500 is going to be the most important race of my driving career, and I can't wait to take the green flag on Sunday," Vautier said. "I'm happy to have Indy Trading Post supporting me."
Watch all of the action of the 97th running of the Indianapolis 500 May 26th at noon live on ABC television. Be sure to follow the #55 car throughout the entire Izod IndyCar Season.
About Indy Trading Post
Indy Trading Post is Indianapolis' destination for family shooting sports. We provide a place to learn to handle firearms safely in a relaxed environment. At Indy Trading Post, we promote responsible gun ownership by providing a safe, clean, family friendly environment staffed by experienced professionals.
About Schmidt Peterson Motorsports
Schmidt Peterson Motorsports (SPM) was established in 2001 and is owned by former IndyCar driver Sam Schmidt and businessman Ric Peterson. Schmidt was paralyzed (quad) in 2000 after an accident during testing at Walt Disney World Speedway in Orlando, Fla. SPM fields cars in the IZOD IndyCar