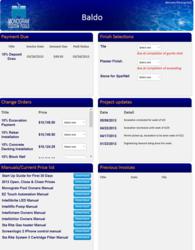 Monogram's customer web portal has simplified the pool building process for customers
Allentown, PA (PRWEB) May 29, 2013
Monogram Custom Pools has always built the most hassle free in ground concrete pools in the Lehigh Valley and they have now made their construction process just as hassle free.
After 2 years of development, Monogram has rolled out their new customer web portal which provides their customers with a private log in to view all aspects of their custom pool building project. During construction, customers can view current project status, upcoming schedules, request changes, and even view current invoices and payments.
When their pools are complete, Monogram Customers will use this log in for requesting service, downloading owner's manuals, and even verifying pool chemicals if they have the need to add salt or other balancing chemicals in their pools. Customer can also order popular Monogram options such as iPhone controlled outdoor media systems, color changing LED pool lights, and even rafts and floats.
Monogram is the only pool builder in the Pennsylvania area to win the Better Business Bureau's award for Excellence in Customer Service and they are constantly looking for ways to improve the customers' pool building and operating experience. This latest innovation is just another example of their dedication to 100% customer satisfaction.