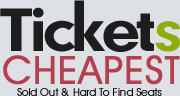 Just because Rolling Stones tickets sold out at the box office taking advantage of the supply at Tickets-Cheapest.com means fans may still buy seats and actually buy them cheaper than at most other resale sites including premium seats and floor tickets.
Chicago, IL (PRWEB) May 25, 2013
The Rolling Stones Tour, entitled Fifty And Counting, dives hard into the second half of their scheduled concert dates with three shows at the United Center in Chicago this coming week. With Chicago tour dates growing from one to three the supply may have outpaced demand at a face value of $250 for most tickets.
In a bit of a change since Rolling Stones Chicago tickets went on sale for the public, the Tuesday, May 28th concert had become the cheapest United Center Stones show for those still wanting to buy last minute tickets. As the first Stones concert announced, this show sold out most seats within hours, but with the addition of two more performances prices at one of the lowest priced ticket resale sites, Tickets-Cheapest.com, revealed a drop in $250 face value tickets down to $207 including all fees and delivery.
As the only Rolling Stones United Center show on a weekend, the Friday night May 31 tour date expectedly commands the most money, but still cheap seats may be purchased for as little as $248 including all fees. While those particular tickets may not represent premium seats or floor seats, they still fall into the category of Rolling Stones tickets selling for below their original face value.
Being the last of the three Chicago Rolling Stones shows announced, the Monday, June 3 United Center tour date originally lagged in sales, but demand for this show seems to now outpace the May 28th date. The low priced concert tickets for this performance start at $231, complete the set of the City of Chicago shows with tickets for sale under face value.
For other cities, like The Rolling Stones Boston concerts, tickets for the June 12 and June 14 shows remain available for under face value as well. In fact, Tickets-Cheapest offers some special tickets for The Rolling Stones in Boston for only $175 including service fees, making the probably the cheapest Rolling Stones tickets available for any remaining tour date. These special tickets at 30% under face value must be purchased via telephone by calling 800 351 3301 business hours City of Boston time.
While the dates for these concerts quickly approaches, fans still have time to buy tickets. Many of these Rolling Stones tickets may be purchased with an E-Ticket option, meaning a paper ticket for the show may be printed right from the computer of the purchaser immediately after the easy online sales transaction. The printed tickets and computer systems at the arenas, like the United Center or TD Garden, make using the tickets printed at home as easy as standard tickets from the box office. With the 125% ticket guarantee of authenticity and guaranteed admission to the Rolling Stones concert fans need not be concerned with nervousness about an E-ticket if they may never have used one. In addition to E-Ticket options, many tickets may still be shipped via next day air, picked up near the venue of even mailed through the USPS for some of the shows where time still allows.
Financial Firebird invites fans to compare Tickets-Cheapest.com to their favorite online ticket service. In an extensive survey of ticket resale sites comparing the exact same seats Ticket-Cheapest.com provided lower prices than all 25 out of 25 internet competitors surveyed including beating Stub Hub and Cheap Tickets. Chances are those looking for premium seats at concerts, or sold out tickets to theater or pro sports events can find the best ticket prices at Tickets-Cheapest.com every time.
Rolling Stones concert reviews from the early shows on the Fifty And Counting tour indicate terrific performances with great energy from the band plus fun guest stars. Just because Rolling Stones tickets sold out at the box office taking advantage of the available inventory at Tickets-Cheapest.com means fans may still buy seats and actually buy them cheaper than at most other resale sites. This includes not only cheaper seats, but also premium seats, floor seats and VIP package tickets. With last minute availability and a guarantee of authenticity, visit them online now and get tickets for a concert to be remembered for a lifetime.
About Financial Firebird and Tickets Cheapest
The site to buy Cheap Tickets online and its sister sites, including the site to purchase a ticket for Broadway NYC or Broadway touring tickets, all geared for the consumers looking for low prices, are affiliated with the Financial Firebird Corporation Travel Group, and stand among the top sites sought by travelers and people who enjoy concerts, pro sports and theater performances. Financial Firebird Corporation, established in 2000 and a proud BBB member, provides unbiased consumer information particularly involving personal unsecured debt or mortgages, software and marketing services. These sites for consumers to buy tickets online operate in the resale market and maintain no relationship with the venues or performers. The resale ticket market allows consumers access to popular events once the box office has sold out or to buy premium seats when the venue no longer offers any inventory. Within the group of these secondary market ticket services the Financial Firebird owned ticket sites offer lower prices than competitors. Find the site at Tickets-Cheapest.com.