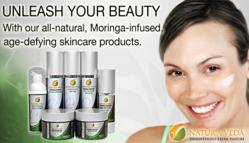 What we put onto our bodies is absorbed into our skin, which is why all-natural, nutrient-rich Moringa is the ideal basis for the Natura Veda skin care system.
Newtown, CT (PRWEB) May 29, 2013
Moringa Source today announced the launch of Natura Veda™, an innovative and all-natural skin care system made with, and inspired by, Moringa. Hailed by Vogue as the "It-Ingredient" of May 2013, Moringa is the most nutrient-dense plant yet discovered. The Natura Veda skin care line offers Moringa's complete and diverse array of age-defying vitamins, nutrients, antioxidants, anti-inflammatories, and nutraceuticals to help achieve younger looking, more resilient skin, naturally.
Natura Veda introduces the 2,000 year-old, time-tested benefits of Moringa. Unlike any other natural oil, Moringa oil contains more than 70% oleic acid, making it possible for nourishing nutrients to penetrate deeply and absorb rapidly into skin without leaving a greasy residue. This allows Natura Veda's proprietary Moringa-infused formula to deliver powerful antioxidants, vitamins, nutrients and botanicals to aging skin layers. Combined with a host of skin-loving, natural ingredients, Natura Veda is formulated especially to help skin feel hydrated, rejuvenated and refreshed.
"We are thrilled to introduce our unique, all-natural Natura Veda beauty products made with Moringa and quality plant-based ingredients," said Jim Fitzpatrick, founder of Moringa Source. "What we put onto our bodies is absorbed into our skin, which is why nutrient-rich Moringa is the ideal basis for our skin care system. As the premiere resource for Moringa products, Moringa Source brings our quality and expertise to this one-of-a-kind skin care line."
The Natura Veda skin care line consists of seven comprehensive day and night skin care products including:

Gentle Foaming Facial Cleanser, cleans, refreshes and rebalances skin, while supporting the skin's organic repair process
Trace Mineral Hydrating Mist and Toner, firms and treats skin with 72 essential plant minerals and nutrients that lock in moisture and prime the skin
Age Defiance Moisturizer for Daily Use, restores the skin's moisture balance as it firms, hydrates and revitalizes
Age Defense Eye Serum for Night-Time Use, strengthens and stimulates skin's natural collagen production with retinol, making it the most powerful non-prescription anti-aging formula available to increase cell renewal
Age Defiance Revitalizing Cream for Night-Time Use, diminishes the appearance of fine lines and wrinkles, promotes skin firmness and elasticity, and protects skin with potent levels of retinol and antioxidants
Moringa-Infused Apricot Exfoliant Scrub, deep-cleans and softens skin with Jojoba and Apricot kernels, leaving the complexion clear and smooth
Moringa-Infused Deep Cleansing Mask, replenishes and detoxifies using a combination of clays bursting with nourishment and essential oils
Natura Veda products were not tested on animals and contain no silicone, formaldehyde or synthetic fragrances. Natura Veda does not contain sulfates, parabens, petrochemicals, phthalates, ethanolamine, phenoxyethanol, mineral oil or propylene glycol.
Consult with your physician and visit https://www.moringasource.com/customer-service before using Moringa products.
About Moringa Source
Moringa Source is the premiere resource for Moringa oleifera products. The largest company exclusively dedicated to 100% natural Moringa products, Moringa Source offers a comprehensive line of nutritional supplements and beauty products designed to balance and improve the body's cognitive, neurological and physical well-being.
Moringa Source is committed to eco-friendly practices, growing Moringa oleifera trees on sustainable farms in countries known traditionally to have rich crops with high nutritional levels in India and South America. Harvested by hand and packaged to preserve the highest nutritional value, Moringa Source delivers naturally vegan, caffeine-free and gluten-free products with health and beauty benefits for the whole family.
For information on Moringa Source, visit MoringaSource.com and follow Moringa Source on Facebook, Twitter, Pinterest and Google+.