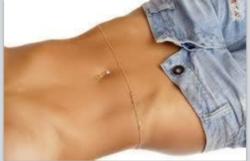 The precise and focused non-surgical lipo reduction is able to assure a notable fat and cellulite volume reduction and it is completely safe.
Marlboro, NJ (PRWEB) May 28, 2013
Developed in Italy, Eximia has become the best body contouring treatment in over 40 countries.
There are currently no other systems as Eximia's the latest HR77 machine that combine in a single unit such a comprehensive method, with visible results after just one session. With a few sessions, coupled with proper diet and exercise, other similar devices can be painful and cause side effects but the latest Eximia breakthrough philosophy, a combination of four technologies that have taken the world by storm is comfortable, and some clients find it to be a pleasurable sensation.
The Eximia technologies consist of laserporation, endodermic massage, radiofrequency and magneticrollers. The repetition of this four-phased cycle during the application induces excellent drainage, consequently stimulating the metabolic activity of adipose tissue and ensuring clearly improved oxygenation and microcirculation, which leaves skin with enhanced tone, smoothness and elasticity. In short form, the combination of various treatments helps to reduce cellulite and gets rid of localized fat, a bit like a fat zapper. The precise and focused non-surgical lipo reduction is able to assure a notable fat and cellulite volume reduction and it is completely safe.
While liposuction can be a great way to get the figure one really wants, like other invasive treatments, it may no be without complications during surgery and post operation side effects. Recovery from liposuction may take weeks or months. The DaVinci Center offers liposuction alternative non-surgical technologies which take advantage of the lymphatic system of the human body in order for fat to be removed the natural way, instead of suctioning it out. The Lasersculpt program is the most effective alternative to a scalpel. Eximia HR77 multipolar RF will treat cellulite in its most critical stages to stretch marks, from wrinkles to tissue ageing, from lack of tone to elasticity. The range of treatments is completed with the microdermabrasion sessions using kits with diamonds heads.
The New Jersey non invasive weight loss center offers free consultation and use of the high-tech body composition analyzer called MyTouch. DaVinci's Body Contouring Specialists will accurately evaluate imperfections, considering each customer holistically and individually, by looking at the characteristics that make each person unique, visualizing the potential to improve one's body, and clarifying the time, strategies and costs of treatment. Thanks to the sophisticated MyTouch software, each specialist is able to "reconstruct" a client's body as a three-dimensional avatar which will demonstrate the improvements they can achieve. Da Vinci Center serves as your personal assistant to managing your weight, improving your health, and changing to a better lifestyle.
Founded in 2012, The Da Vinci Center, a non-invasive weight loss center located at 184 Rt 9 N in Marlboro NJ, Da Vinci Center offers a comprehensive approach to slimming with Professional Coaching Methods, Personalized Customer Care, European Slimming Procedures. The specialists at DaVinci Body Concept will help you redesign your body by effectively treating imperfections.
For more info visit http://www.Davincibodyconcept.com or call 732-536-0030 to reserve space for membership.