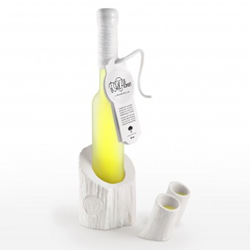 Como, Italy (PRWEB) May 30, 2013
A' Design Award and Competitions are proud to announce that the work Dell' Albero Limoncello by Bold-Inc Brand Innovation has been granted the notable Golden A' Design Award at Packaging Design Category and selected as the winner by the transnational judges of the A' Design Award & Competition within numerous works.
More details on Dell' Albero Limoncello
Bold-Inc Brand Innovation comments that "Dell' Albero" translates from Italian as 'from the tree' and this inspired the hand-crafted treatment of this iconic lemon liqueur from Italy. Based on traditions, the base of each lemon tree is coated with white paint to deter crawling insects from reaching the fruit. A white ceramic base resembling the tree trunk forms an integral part of the design and provides a functional purpose by acting as both a stand and 'chiller' for the bottle when placed in the freezer prior to serving. Finished with age old hand-crafted techniques, the result is a bold re-interpretation of the traditional Italian limoncello.
To learn more, please visit: http://www.adesignaward.com/design.php?ID=28491
Team Members of Bold-Inc Brand Innovation
Dell' Albero Limoncello was made by creative director Jon Clark, design directors Kent Walker and Jarrod Robertson, designer Luca Uboldi.
The Golden A' Design Award
The Golden A' Design Award is a prestigious award given to top 3% percentile designs that has carried out an exemplary level of quality in design. The designs are judged by a panel of three different jury which is composed of Academic, Professional and Focus Group Members. The designs are evaluated with score normalization to remove any biases and are voted on aspects such as functionality, ergonomics, engineering, presentation, innovation, usability, fun details, technology, and any other specific points that could be considered, each of these points are further weighted for different jury groups.
About A' Design Award and Competition
A' Design Award and Competition aims to highlight the excellent qualifications of best designs, design concepts and design oriented products. A' Design Award and Competitions are organized and awarded annually and internationally in multiple categories to reach a wide, design-oriented audience. Learn more at: http://www.whatisadesignaward.com