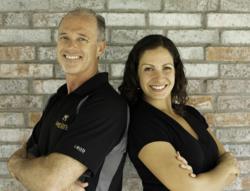 Upper cervical care focuses on the intimate relationship between the spine and the nervous system. The alignment of the first two bones in the neck, the upper cervical spine, are vital to ones health
Austin, Texas (PRWEB) May 28, 2013
Austin based chiropractor Dr. Bart Patzer, a 3rd generation chiropractor, primarily uses his lifetime of natural lifestyle, lecturing throughout the country, & his 20 years of experience in family care along with his specialized upper cervical chiropractic techniques to care for families in the Austin Texas area. Recently Dr. Patzer has joined forces with Dr. Julia Pinkerton, who specializes in prenatal and pediatric chiropractic care to enhance the array of chiropractic services offered to families in the Austin area. Both doctors are passionate about caring for whole families and people seeking a holistic approach to regaining their health.
Dr. Bart "J" Patzer has been widely known as a top Austin Upper Cervical Chiropractor. For the last 10 years Dr. Patzer's office has been a training headquarters of the upper cervical & family chiropractic wellness movement in the Southwestern region of the United States. "Upper cervical care focuses on the intimate relationship between the spine and the nervous system. The alignment of the first two bones in the neck, the upper cervical spine, are vital to ones health," says Dr. Bart Patzer. This portion of the spine is especially vulnerable to injury or misalignment because it has the most movable segments in your spine. One of the most vital parts of our nervous system, the brainstem, resides inside the upper cervical vertebra. The brainstem works as the first and principal area of communication between the brain and body and directly affects such functions such as; respiration, heart rate, sleep cycles and consciousness. Dr. Bart says, "When the upper cervical vertebrae become misaligned it can cause interference in the mind-body communication pathway."
Although these doctors work on the entire spine, when asked why they often choose to focus on upper cervical chiropractic, Dr. Bart answered, "It just makes sense, you're dealing with the most critical area of the body, ask any neurosurgeon. The more precise our adjustments are, the better our chances of an exact correction."
As a Female Chiropractor in Austin, Dr. Julia Pinkerton chose to specialize in prenatal and pediatric chiropractic care. Dr. Pinkerton says that her mother inspired her and has always had a holistic healing mentality. "My mother started seeing a chiropractor when she was pregnant with me and I was adjusted for the first time at ten days old." This journey continued for Dr. Pinkerton and eventually led to her completing chiropractic school in Brazil, as well as graduating at the top of her class at the Life Chiropractic College West in the San Francisco Bay Area. Her leadership within the profession along with her passion for caring for people was in perfect alliance with Dr. Patzer's principles. When Julia was introduced to Dr. Patzer, who lectured at the chiropractic school numerous times, they decided that http://www.Patzerchiropractic.com would be an ideal fit to serve the Austin community and continue to foster the development of chiropractic in our health care system.
Together Austin Chiropractors Dr. Bart Pazter and Dr. Julia Pinketon utilize methods of corrective chiropractic care while striving to help people achieve their unique health goals and regain their innate healing ability naturally through incredibly effective and holistic chiropractic care. Their goal is to help guide and inspire their chiropractic practice members on a journey to optimal health.
About Patzer Chiropractic:
Austin chiropractor, Dr. Bart Patzer uses his 20 years of experience in family care, seeing patients with ages ranging from newborn babies through to a practice member who is 104 years of age. Dr. Bart has been practicing in Austin, TX for over 20 years. His grandfather and father Keith Pater, DC before him practiced Upper Cervical Chiropractic in Texas, and Dr. Patzer decided to continue the tradition through training and guidance. Dr. Patzer and Dr. Pinkerton utilize the Orthospinology procedure of x-ray analysis and gentle specific upper cervical adjustments. They have cared for patients suffering from various conditions, such as trigeminal neuralgia, migraines, headaches, neck and back pain, fibromyalgia, neuropathy, tinnitus, carpal tunnel, ADD/ADHD, reflux, allergies, asthma, baby ear infections, and high blood pressure. The clinic's focus is to guide patients to optimal health by restoring proper communication between their nervous systems and bodies through chiropractic and specific upper cervical care.