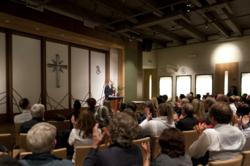 Portland, OR (PRWEB) May 25, 2013
The Church of Scientology Portland celebrated the first Church graduation this week in their new home at 309 SW 3rd Avenue in downtown Portland.
Scientology Churches hold weekly graduations where parishioners gather to acknowledge those who have completed a course or level of auditing (Scientology spiritual counseling) that week. They share successes in a spirited assembly that also serves to revitalize others on their spiritual progress.
The evening kicked off with a live piano and guitar performance featuring Portland parishioners and staff.
Dozens of parishioners were acknowledged for completing Dianetics and Scientology services since the new Church was dedicated on Saturday May 11. Those acknowledged included graduates of a variety of introductory Scientology courses including the Success Through Communication Course and Personal Efficiency—a 2 1/2-hour course based on L. Ron Hubbard's book The Problems of Work: Scientology Applied to the Workaday World that provides tools to create a happier, more confident and more successful life.
To service Portland Scientologists and visitors, the Church houses multiple classrooms for introductory courses on Dianetics and Scientology principles and their application in life.
Graduation was held in the Church's Chapel which provides for Scientology congregational gatherings, including Sunday Services, weddings and Naming ceremonies—as well as a host of community-wide events open to members of all denominations.
About The Church Of Scientology Portland
The Church's new home occupies the renowned Sherlock Building on the corner of 3rd Avenue and Oak Street. Originally erected in 1893, the landmark has long been listed on the National Register of Historic Places. The Sherlock Building is recognized as among the most noteworthy late-19th-century structures in Portland and the preeminent example of Sullivanesque architecture in Oregon. The Church undertook the restoration of this Portland classic to preserve its heritage well into the next century, including full seismic reinforcement of all seven stories. The building now houses all facilities of a Scientology Ideal Organization (Ideal Org), providing the complete range of religious services to a rapidly growing congregation. The Church further serves as a center for members of all other faiths to collaborate for community betterment across the Willamette Valley. Learn More
Ideal Orgs reflect the fulfillment of Founder L. Ron Hubbard's vision for the religion. They not only provide the ideal facilities to service Scientologists on their ascent to greater states of spiritual awareness and freedom, they are also designed to serve as a home for the entire community and a meeting ground of cooperative effort to uplift citizens of all denominations.
The Scientology religion was founded by author and philosopher L. Ron Hubbard. The first Church of Scientology was formed in Los Angeles in 1954 and the religion has expanded to more than 11,000 Churches, Missions and affiliated groups, with millions of members in 167 countries.