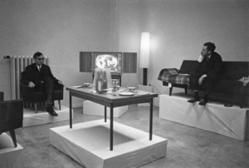 Was their intention to create a true art movement, irony or social criticism, or simply a self-serving marketing campaign?
Düsseldorf, Germany (PRWEB) May 28, 2013
The term "Capitalist Realism" was coined in early 1963 by Gerhard Richter, Konrad Lueg, Simmar Polke, and Manfred Kuttner when they held an exhibit in a vacant store on Kaiserstrasse 31a in Düsseldorf. The term stuck and came to represent the artists' approach to art in post-war Germany, but it was never explored in a comprehensive art exhibit until now. The exhibit at Kunsthalle Düsseldorf opens July 21 and runs through September 29, 2013.
Similar to American Pop Art, Capitalist Realism documents aspects of the times by looking at the trivial found in every-day life, e.g., how consumer goods, travel destinations, typical homes, portraits, and contests reflected the post-war German economic miracle.
The show documents the presentations by the four artists and features all their known artwork – mostly paintings – in relation to Capitalist Realism at the time. However, all pieces are reproductions, echoing a characteristic common to the works of Richter, Polke and Lueg: They never depicted objects or subjects directly, using only reproductions from sources like newspapers and magazines and always labeling them as reproductions.
The definition of Capitalist Realism remains controversial today, as does the artists' strategy for coining the term. Was their intention to create a true art movement, irony or social criticism, or simply a self-serving marketing campaign? While their art clearly shows a critical view, the artists also employed capitalist marketing and branding strategies to present their art and themselves. One goal of the Kunsthalle exhibit is to explore these questions.
For more information about the exhibit, visit http://www.kunsthalle-duesseldorf.de.
The city's tourism office is offering hotel and city specials for many of the city's art-related events throughout 2013, including "Capitalist Realism." The travel package called "Düsseldorf à la Card" can be booked right from the tourism office's website. Prices start at €49 per night per person based on double-occupancy for a 2-3 star hotel in the city center and at €95 per person for a 4-5 star hotel. All packages include breakfast, a Düsseldorf Welcome Card (free public transportation within city limits, plus more than 40 free or reduced admissions to city attractions), and a city information package.
###
Düsseldorf Marketing & Tourism GmbH is the visitors and convention bureau of the city of Düsseldorf. Its responsibilities include tourism and city marketing, as well as conference and meeting marketing, hotel reservation services, fairs and convention services, city event ticket sales and advance ticket reservations. For more information, visit http://www.visitduesseldorf.de.
Düsseldorf Airport, Germany's Next Generation HubTM, offers several non-stop flights from US & Canadian cities (Atlanta, Chicago, Ft. Myers, Los Angeles, Miami, New York, Newark, Toronto), as well as convenient connections to many European cities. For more information about the airport, visit http://www.fly2dus.com and http://dus-int.de/dus_en/.