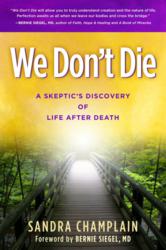 I want to help people heal and restore their lives.
Boston, Massachusetts (PRWEB) May 27, 2013
Aerosmith, Jimmy Buffett, Dane Cook, James Taylor and other artists will be performing at "Boston Strong," a concert on May 30th in Boston's TD Garden Arena to raise money for One Fund Boston. Local author, Sandra Champlain wishes to do her part as well.
We Don't Die - A Skeptic's Discovery of Life After Death, is Champlain's new book. In addition to the title, the book helps readers understand grief and gives instructions to help ease their pain. It also gives tools to empower people to lead extraordinary lives.
"I think this is the perfect time to give this message to our community," says Champlain. "Our state has been grieving since the bombings April 15th, regardless of whether we directly lost someone we love or not. Grief occurs anytime we have a major loss. It can be from a death, a loss of a job, a relationship or a change in our health. It can be caused by any factor that changes our lives significantly."
"Books that talk about life after death are in high demand right now. Everyone wants reassurance. My book is different from the rest. I most certainly give the reassurance that we don't die and that we shall see our loved ones again. However I understand grief and loss. It is rarely discussed in our culture and has a tough impact on lives, I had to include as much knowledge as I could about grief, to help people heal and get back into life," says Sandra.
She continues, "Grief causes depression, arguments, fear, breakup of relationships and often suicide. The last thing we need is for more pain to result from the impact of this little understood emotion. I want to help people heal and restore their lives. The only way I know to do that is to share the book as much as possible and donate the money."
The paperback, We Don't Die - A Skeptic's Discovery of Life After Death is available on Amazon, Barnes & Noble and your local bookstores.
For all those that purchase the book between now and June 30th, please enter your sales receipt number at wedontdiebook.com and Sandra Champlain's proceeds from the book will be donated to One Fund Boston.