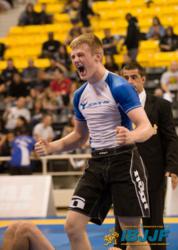 "No Gi is a great supplement to normal Brazilian Jiu-Jitsu training which takes place with a gi [uniform] on." - Julius Park
Owings Mills, MD (PRWEB) May 25, 2013
Students can now practice No Gi Grappling with the Best in the Baltimore Area as Crazy 88 announces classes at their new Owings Mills Brazilian Jiu Jitsu & Mixed Martial Arts center.
At Baltimore mixed martial arts school Crazy 88, students have the opportunity to study all areas of mixed martial arts with expert coaches, including No Gi submission wrestling.
There are many No Gi classes available at the team's academy in Elkridge, MD, founded in 2005, and soon even more no gi class options will be available at the team's new location in Owings Mills, set to open August 1, 2013.
"No Gi is a great supplement to normal Brazilian Jiu-Jitsu training which takes place with a gi [uniform] on." - Julius Park
One of the major benefits of training no gi Brazilian jiu jitsu at Crazy 88 is the chance to train with expert coaches who are able to help their students achieve mastery.
The school's no gi competition record speaks for itself: In 2012, Crazy 88 became the first Baltimore-area school to produce No Gi World Champions, not to mention the countless smaller no gi tournaments won by the school's students and coaches including NAGA and Grappler's Quest advanced no gi divisions.
At No Gi Worlds, the biggest no gi tournament put on by the International Brazilian Jiu Jitsu Federation, Coaches Timmy Spriggs and Devon Delbrugge both won gold in their divisions in 2012. Spriggs won gold at purple belt heavyweight and Delbrugge won gold at blue belt middleweight, and then went on to win gold in the blue belt open weight class.
Crazy 88 prides itself in providing the best Brazilian Jiu Jitsu, Mixed Martial arts and Muay Thai instruction in the Baltimore area, and the school's no gi jiu jitsu classes are no different. In the classes, students study the explosive and challenging art of grappling without the traditional uniform worn in Brazilian Jiu Jitsu.
In no gi, grips, transitions, positions and submissions are often very similar to traditional Gi jiu jitsu, but learning small, specific details that only an expert coach can point out is essential in order to learn to control your opponent and execute no gi techniques successfully. That attention to detail is what makes Crazy 88's no gi grappling classes stand out.
Jon Delbrugge, professional Mixed Martial Arts fighter, will be heading up the program after over 5 years training and competing.
If you're interested in Crazy 88's 30 day free trial for kids or adults No Gi, BJJ, Muay Thai Kickboxing or Mixed Martial Arts in the Owings Mills area, please call 443-283-1450 or visit http://owingsmills.crazy88bjj.com.