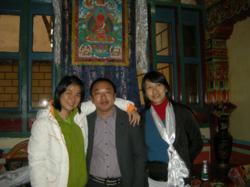 Tibet travel is easy with local reliable tour agency and operator!
(PRWEB) May 28, 2013
Looking for a travel destination that wraps exciting adventure and unique cultural experiences all into one? If so, travel to Tibet is the solution! Full of natural beauty and a people whose culture has roots in ancient times, there is something for everyone in Tibet. Nature lovers will be awe struck by the endless snow capped peaks and the expansive valleys that lie in between. Culture focused travelers will be enthralled by the monasteries, temples, and how they have played a role in Tibetan history. More and more travelers arrive every year, and with it has come a proliferation of online Tibet travel agencies; with so many to choose from following a few simple guidelines can help eliminate hassles.
A Tibet travel agency designs and operates tour of Tibet for domestic and foreign visitors. Many offer packages that are inclusive of hotels, transportation, guides, drivers and food. Choosing the right travel agency can be the difference between a dream vacation and trip full of hassles! First and foremost, make sure that the travel agency is able to provide a Tibet travel permit; travel regulations require that all foreign travelers in Tibet obtain a permit before entry. If arriving via Mainland China, this will require a valid Chinese visa; if coming from Nepal, a Tibet travel agency can help arrange for a special Chinese visa to be issued in Kathmandu. When booking a tour, Tibet travel agency can arrange for travel permits and offer travelers advice in obtaining a Chinese visa.
Tibet is a large country, with many popular travel destinations. When planning a tour, it can be easy to be overwhelmed by all the options. In addition, online travel agencies offer many different kinds of Tibet tours, ranging from a few days of sightseeing to extensive trekking tours. Travelers are encouraged to learn as much about Tibet as possible while planning their tour, then pick the tour destinations that match their group's interest. Those looking for adventure may want to investigate trekking or mountain biking routes in and around the regions they are interested in visiting. Travelers looking to cover as much ground as possible, while still taking time to learn about Tibetan culture and enjoy the scenery, may be best off with an overland tour. Once travelers have decided on a destination and kind of tour, it is important for them to pick a travel agency that can meet their needs and interests.
With so many destinations, types of tours, and online travel agencies to choose from, it's no wonder that travelers may be overwhelmed when planning a tour of Tibet. Many feel it's best to begin planning by deciding what the focus of the tour would be, then decide on more specific details. Once specific destinations have been decided upon, travelers may want to consider if they want to do any special activities like trekking or mountain biking. In any case, travelers will want to work with a tour operator that can accommodate their travel interests, and most importantly, reliably provide them with a Tibet travel permit. With the Tibet travel season upon us, travelers are encouraged to start planning their tours now!
Devin Moore provided this news release above on behalf of local Tibet tour agency TCTS (tibetctrip.com). Devin is a travel writer and independent economic analyst based in Springfield, Missouri USA. His economic research is currently focused on airfare pricing. Devin Moore works to spread awareness of Tibet and its people through publishing Tibet travel information.
Tibet Travel Agent TCTS Contact Address:
Post Address: Tibet Niwei International Travel Service, Co., Ltd (Niwei Building Room 302, No.13 North Linkuo Road, Lhasa, Tibet)
Post Code: 850000
Tel/Fax (Lhasa area code):86-891-6342607, Mobile: 86-13628999610 (Tony), Email: sales (at) tibetCtrip (dot) com, TibetCtrip (at) gmail (dot) com