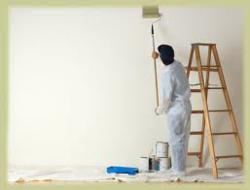 Low Down - Low Monthly Payments - Low Cost - STRONG coverage
Atlanta, GA; Nashville, TN; Greenville, SC; Richmond, VA (PRWEB) May 26, 2013
There was a time when painting companies comprised of an employer with crews of employee painters. Those days are gone.
Today, the painting business has converted to a General Contractor that contracts jobs to crews of painters. Often times, the crews that used to be 'employee crews' are now the same people doing the same jobs but these same workers are now 'contractor crews'. Crews are often times 2-3 workers that do jobs together on a regular basis.
America Insurance Brokers provides insurance solutions for the "contractor paint crews" that includes coverage for General Liability Insurance and Workers Compensation. In most cases the insurance includes coverage for tools, equipment, paint being transported to a job, paint and product while at the job site, and more...
Painter solutions are available for Painters in Tennessee, Painters in Georgia, Painters in South Carolina and Painters in Virginia.
Painters will be required to provide proof of insurance on a regular basis to ensure their policy has not cancelled. America Insurance Brokers provides proof of insurance QUICKLY. Working with Compliance Depot is not a problem. We work with Compliance Depot on a regular basis.
The painter's insurance solution is made up of the following services:

General Liability- This coverage is traditionally quoted to include 1,000,000/2,000,000 in coverage. This policy has the ability to add coverage for a leased office or even the business that owns their location. Coverage for tools, equipment like a paint sprayer and painting supplies can be added to this policy.
Commercial Auto coverage is another type of painters insurance that is now available with America Insurance Brokers. Personal Lines insurance just does not fit the requirements of many of the general contractors. "Additional Insured", coverage for "Any Vehicle", "Waivers of Subrogation" are issues that a personal lines insurance policy often times miss. America Insurance Brokers has commercial auto insurance solutions that meet these requirements.
Workers Comp for the single painter business or the partner crew of 2-4 painters can be quickly written for $200.00 down and 8 monthly payments of $100.00. This policy would exempt the partners from coverage but would provide the proof of insurance that is required to be a eligible contractor.
Bonding may also be a solution that is needed and that is quickly provided.
America Insurance Brokers provides a wide variety to painter insurance solutions quickly and affordably for the painting business. Low down payments, low monthly payments are helpful to any business' cash flow needs.
To investigate more of the options and solutions available, please call 678-648-1900 or fill out the online application here.
================================================
NON-Profit moment shout-out to National Service Charity. Nationalservicecharity.org provides the funding solutions for volunteers.