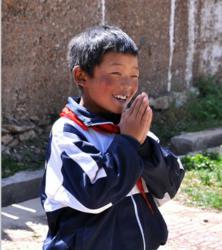 Welcome to Travel Tibet with local agency!
(PRWEB) May 26, 2013
The door has been opened for more foreign travel to Tibet and China as Chinese Premier Li Keqiang has been working to deepen ties with trade partners. On a recent trip Li visited Pakistan and then toured Europe. Lhasa based Tibet travel agency, Tibet Ctrip Travel Service-TCTS (http://www.tibetctrip.com), has been following the story and is here to keep travelers up to date on the increasingly important role Tibet and China play on the global stage. With the nation extending its affairs beyond its borders it stands to benefit from greater inbound foreign travel and positive economic growth.
Li's first stop in Pakistan brought increased cooperation between the two nations. It was agreed that China and Pakistan must make collaboration on power generation a priority, as Pakistan's energy crisis has brought its economic growth to a near standstill. Additionally, Li met with CEO of Roots Millennium Schools, China's largest private sector academic collaborator. They discussed developing Chinese language programs in Pakistan to allow for greater flow of people and ideas between the two nations. This increased cooperation will help Pakistan restart its economy and encourage greater numbers of Pakistanis to travel Tibet and China.
The first stop on Li's tour of Europe was China's long time trading partner, Switzerland. Much excitement has surrounded Li's visit as Switzerland has entered into an in principal agreement with China on a long anticipated free trade deal that would lower tariffs, tolls, and other barriers to trade between the countries. China is an important destination for Swiss exports; the Swiss pharmaceutical and chemical industries are in line to benefit along with food producers and tourism. Such an agreement would allow for private companies to more easily collaborate, including Tibet tour and China tour providers based in both nations.
Now that China is playing a greater role in the global community, people around the world are in a position to benefit from increased private sector competition, in terms of lower prices, and increased economic growth. China's effort to increase cooperation with other nations promotes a greater flow of people and ideas in and out of China itself; international entrepreneurs may be more willing to partner with Chinese firms and leisure travelers may begin eyeing Tibet travel and China travel as realistic options for their next getaway. With the face of China changing rapidly, Tibet Ctrip Travel Service-TCTS (http://www.tibetctrip.com) continues to follow China's foreign affairs and keep travelers informed of what it means for them.
Devin Moore provided this news release above on behalf of local Tibet tour agency TCTS (tibetctrip.com). Devin is a travel writer and independent economic analyst based in Springfield, Missouri USA. His economic research is currently focused on airfare pricing. Devin Moore works to spread awareness of Tibet and its people through publishing Tibet travel information.
Tibet Travel Agency TCTS Contact Address:
Post Address: Tibet Niwei International Travel Service, Co., Ltd (Niwei Building Room 302, No.13 North Linkuo Road, Lhasa, Tibet)
Post Code: 850000
Tel/Fax (Lhasa area code):86-891-6342607, Mobile: 86-13628999610 (Tony), Email: sales (at) tibetCtrip (dot) com, TibetCtrip (at) gmail (dot) com