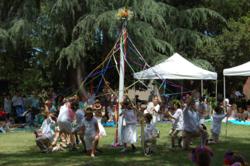 Annual event offers each class the opportunity to perform its own choreographed dance
Pasadena, CA (PRWEB) May 26, 2013
Pasadena Waldorf School (PWS) students welcomed the merry month of May by celebrating with an open house for grandparents and special friends. The day's highlight was traditional Maypole dancing performed by grades one through seven, while grade eight provided a moving music performance with handbells and vocals. The annual event offers a chance for each class to perform its own choreographed dance, wrapping the streamers in ever more intricate patterns, and culminates in an opportunity for the entire community to weave an impromptu dance as parents and grandparents join the children.
Prior to the Maypole dancing, PWS grandparent Philip Nix spoke to the grandparents about their prospective role in the education of their grandchildren. His advice included encouragement for grandparents to share their life stories, to show the children how they have lived full lives. Mr. Nix is a grandparent at PWS, and a former headmaster at Flintridge Prep in La Canada, as well as being the visionary founding administrator of a highly successful independent school in Sonoma County.
Pasadena Waldorf School, founded in 1979, is one of over 1,000 Waldorf schools worldwide with over 90 years of experience offering inspired education. Pasadena Waldorf High School, which opened this year, joins 40 other Waldorf high schools now operating in North America. Waldorf education is the fastest growing independent school movement in the world.