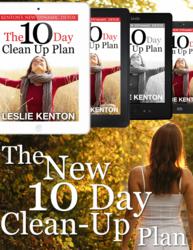 When it comes to degenerative conditions, many are surprised to learn that their body may no longer need drugs to keep them symptom-free. My New 10 Day Clean Up-Plan can help readers gain energy, restore confidence in their body and experience a new sense
San Francisco, CA (PRWEB) May 27, 2013
Leslie Kenton's New 10 Day Clean-Up Plan in her Dynamic Health Series has just been published. Her original bestselling 10 Day Clean-Up Plan has appeared in many editions and many languages since it came out 25 years ago. The original book continues to generate 5 star reviews at Amazon.co.uk and elsewhere. "This is the BEST, most effective detox/cleanse plan I have ever tried. I have been using this little book for the last ten years."
Leslie Kenton created her original 10 Day Clean-Up Plan as a step-by-step guide for regenerating energy, transforming the way one looks and feels, and enhancing wellbeing all round—in a mere 10 days. The book was, and is, a complete home-spa program, spring-cleaning the body, firming skin and muscles, trimming a few excess pounds, clearing the mind and brightening the spirit.
In recent years, Leslie Kenton has received hundreds of requests for a new 10 Day Clean-Up Plan book. So we are excited to be able to share this wonderful news. New 10 Day Clean-Up Plan book. It brings this dynamic detox into the 21st century, embracing as yet little-known, cutting-edge research, tools, techniques and valid scientific breakthroughs.
SMOOTH TRANSFORMATION
The New 10 Day Clean-Up Plan is even more energizing and easy to follow than the original program was. It includes brand new recipes plus advanced information based on new discoveries about the relationship between the food you eat and your health, protecting yourself from degenerative conditions, clearing brain fog, calming food cravings and regenerating your life. It tells the inside story on which fats to eat and which to shun forever; what is the best whey in the world to use for smoothies; why cereals and grains can seriously undermine health, and how to sweeten drinks and foods safely and deliciously. Do check out Leslie Kenton's new book on Amazon.com and Amazon.co.uk, iTunes and Kobo.
With her background in Traditional Chinese Medicine, herbs, and bioenergetics, Leslie Kenton is aware that the human body has a phenomenal capacity to heal itself from within. It is a truth that has enabled her to help transform the lives of men and women all over the world through Cura Romana. Each one of us, she believes, can change our current life experience into one of expanded wellbeing by drawing on the work of visionary scientists and leading-edge clinicians, and taking guidance from the finest pioneers in human health and development. Cura Romana Ltd hopes that the New 10 Day Clean-Up Plan will not only be a fascinating read, but—even more important—that readers will also receive significant benefits from experiencing this dynamic program for themselves.