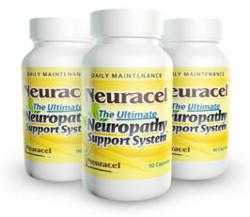 Boise, Idaho (PRWEB) May 29, 2013
According to The Neuropathy Association on http://goo.gl/Phnck, around 20 million US citizens are victims of neuropathy. Out of these only a specific percentage is actually aware of the consequences of being diagnosed with such a disease. Since such conditions tend to be lifelong ones, it is helpful if a few lifestyle changes are made to avoid added complications. Weight bearing exercises should be incorporated into daily routines as this helps fight the effects of peripheral neuropathy too. Neuracel aims to make the treatment process for the patients diagnosed with neuropathy a lot easier with its newly launched Ultimate Neuropathy Support System.
Peripheral Neuropathy – An overview
Diabetes is a life-long disease that not only debilitates the lives of victims, but also succeeds in making them more susceptible to additional conditions like peripheral neuropathy. Even though patients are to take care of their feet and legs and to exercise regularly, there is no certain way of avoiding the pain of neuropathy forever. For this reason, doctors prescribe drugs and ointments so that the pain and negative effects of this disease can be curbed and kept in control. However, one of the best measures to keep neuropathy under control is through natural remedies and Neuracel aims to help individuals in this process.
About Neuracel
Neuracel is one of the newest drugs in the field of diabetic neuropathy treatments. Where other drugs and ointments usually just work towards relieving pain for a short period of time, Neuracel has actually been designed to restore the nervous system back to its functional form so that patients are able to go back to leading normal lives again. Symptoms of neuropathy can be fought off and long-term benefits can be achieved with prolonged use.
Those who are skeptical about new medications that promise such life-changing results can proceed to purchase a trial version with its money-back guarantee. This offer lasts for 30 days from the date of purchase and can be found at https://neuracel.com/specialoffer.php. Other packages such as the good value and great value can be viewed and purchased at http://www.neuracel.com. Testimonials of recent consumers can also be viewed on the website.