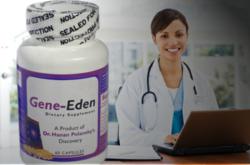 The thought of a baby getting genital herpes, a virus that can kill the baby, or cause cancer or brain damage, is terrifying. These poor babies don't deserve this horrifying fate. - Mike Evans, polyDNA
Rochester, NY (PRWEB) May 26, 2013
Many mothers with genital herpes are concerned that their infection could harm their babies. They are right to be concerned. Studies say that there is an increased risk of transmitting the herpes virus to the baby when the mother has active herpes lesions in the vagina. The herpes virus can then cause brain tumors and brain damage in the newborn baby (1).
"Neonatal herpes… is the most serious manifestation of herpes simplex virus (HSV) infection in the perinatal period. Although acyclovir therapy decreases infant mortality associated with perinatal HSV transmission, development of permanent neurological disabilities is not uncommon." (Clinical Obstetrics and Gynecology, Dec. 2012) (2)
Another study noted that "Prevention of neonatal herpes depends on preventing acquisition of genital HSV infection during late pregnancy and avoiding exposure of the infant to herpetic lesions during delivery… Antiviral suppressive therapy is used from 36 weeks of gestation until delivery in pregnant women with recurrences to prevent genital lesions at the time of labor so reducing the need of caesarean sections." (Giornale Italiano di Dermatologia e Venereologia, Oct. 2012) (3)
"The thought of a baby getting genital herpes, a virus that can kill the baby, or cause cancer or brain damage, is terrifying. These poor babies don't deserve this horrifying fate. Women who want to get pregnant should work on preventing a herpes outbreak. Gene-Eden-VIR is a great solution in boosting the immune system against the latent virus." – Mike Evans, polyDNA
WebMD says that, "A mother can infect her baby during delivery, often fatally…. The risk of infecting the baby is high (30% to 50%) when a woman is newly infected late in pregnancy." (4) In light of the studies mentioned above, it makes sense to try and prevent transmission of herpes from mother to baby.
polyDNA suggests an alternative method in preventing vertical Herpes transmission. Before a woman attempts to become pregnant, she should take Gene-Eden-VIR, a natural herpes remedy to help her immune system try to eliminate the latent virus. Once the latent virus is eliminated, there are no outbreaks, no transmission, and no risk.
When a woman stops taking birth control, we recommend that she also stop using Gene-Eden-VIR.
Gene-Eden-VIR is designed to help the immune system kill the herpes virus. A recent post marketing clinical study showed that Gene-Eden-VIR is safe and effective. Up to 70% of those studied reported a decrease in viral symptoms. (5)
Each ingredient of Gene-Eden-VIR was chosen through a scientific approach. Scientists scanned thousands of scientific and medical papers published in various medical and scientific journals around the world to identify the safest, most effective natural ingredients that target the latent form of HPV. (6)
To learn more about Gene-Eden-VIR, visit http://www.gene-eden-kill-virus.com. All orders of Gene-Eden-VIR are completely confidential, and no information is shared or sold to any third party. Privacy is assured.
References:
(1) http://www.sciencedirect.com/science/article/pii/S1877782113000404
(2)http://journals.lww.com/clinicalobgyn/pages/articleviewer.aspx?year=2012&issue=12000&article=00012&type=abstract
(3) http://www.ncbi.nlm.nih.gov/pubmed/23007251
(4) http://www.webmd.com/genital-herpes/guide/genital-herpes-pregnant
(5) http://www.cbcd.net/Gene-Eden-VIR-Clinical-Study.php
(6) http://www.gene-eden-kill-virus.com/
polyDNA is a biotechnology company that develops dietary supplements using the unique scientific method developed by Dr. Hanan Polansky, which is based on Computer Intuition.
In addition to his unique scientific method, Dr. Polansky published the highly acclaimed scientific discovery, called Microcompetition with Foreign DNA. The discovery explains how foreign DNA fragments, and specifically, DNA of latent viruses, cause most major diseases.
polyDNA developed Gene-Eden-VIR , an antiviral natural remedy that helps the immune system kill latent viruses.