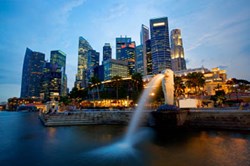 These new budget hotels couldn't choose a better time than now to open. There is a huge pent-up demand from travelers for cheaper accommodation.
Singapore (PRWEB) May 27, 2013
Underpinned by healthy hospitality outlook, hotel openings have sprouted throughout Singapore to support the increase in international visitors. Eight new budget hotels have since opened in Singapore this year.
The new hotel developments are built on the numerous new attractions to Singapore's tourism landscape such as the opening of River Safari, Marine Life Park and Gardens by the Bay. In addition, the estimated 15 million visitors' arrival to Singapore in 2013 has pushed up the demand for hotel rooms.
With the average room rate hovering around US$205 in 2012 (according to Singapore Tourism Board's statistics) and Singapore being rated the sixth most expensive city in the world according to a recent survey conducted by London-based Economic Intelligence Unit, the opening of these eight new budget hotels certainly provides a cheaper alternative for the cost-conscious travelers.
"These new budget hotels couldn't choose a better time than now to open. There is a huge pent-up demand from travelers for cheaper accommodation and especially visitors from countries like Indonesia, Philippines and Malaysia. Also, as part of the hotels' opening marketing drive, these hotels will be offering special Singapore hotel promotions that discerning travelers should take advantage of," says Danny Lee of BudgetHotels.sg, an online hotel guide platform specializing in listing budget hotels near MRT train stations.
Check out the eight new budget hotels highlighted below:
1) Days Hotel Singapore at Zhongshan Park
A three-star hotel with 405 rooms under the well-known Days Inn hotel chain and located in Balestier/Novena area.
2) Venue Hotel
A Perankan-style hotel in a restored Chinese shophouse characterized by colorful themed-rooms and is located within walking distance to Paya Lebar MRT train station.
3) Hotel Clover
Within walking distance to Bugis MRT train station, the rooms are Scandinavian-inspired and equipped with work-desk and free Wi-Fi for business travelers.
4) The Seacare Hotel
A stylish and contemporary business hotel with 103 rooms that is located in Chinatown district and within 10-minute walk to Chinatown MRT train station.
5) Bliss Hotel Singapore
A boutique hotel with avant-garde rooms and free Wi-Fi that is located near the vicinity of Chinatown MRT train station.
6) The Daulat Hotel
A quirky hotel with Persian-designed elements straddling Bugis and Little India districts and is blessed with close proximity to either MRT train stations.
7) Big Hotel
A mid-size hotel in downtown Bugis with 300 over rooms and all rooms come with Serta mattress and free Wi-Fi.
8) Amaris Hotel Bugis, Singapore
A small and no-frills budget hotel conveniently located in Bugis and within short walking distance to Suntec Convention and Exhibition Center that will appeal to the budget-conscious business travelers.
For more information on each of the hotels listed above, please visit http://www.budgethotels.sg/new-hotels-in-singapore-2013/
About BudgetHotels.sg
Created by a local expert, http://www.budgethotels.sg is a first-of-its kind hotel guide platform in Singapore that provides a compilation of budget hotels in Singapore with key information like the location of nearby MRT train stations, popular local food haunts and shopping places.