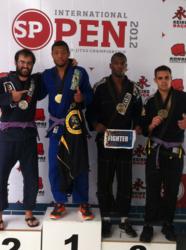 "We're the only school in the area that has produced world champions in every category, juvenile, adult, masters and seniors," - Julius Park, Head Instructor
Owings Mills, MD (PRWEB) May 26, 2013
A new Owings Mills martial arts school set to open August 1st will soon be offering the best Brazilian Jiu Jitsu instruction in the area for kids and adults.
The new facility is a sister school of Crazy 88 Brazilian Jiu Jitsu, which was founded in 2005 in Elkridge, Maryland. In the 8 years since its opening, Crazy 88 has produced Brazilian jiu jitsu competitors who have won the toughest tournaments in the sport, and at the same time, it has helped hundreds of adults and kids meet fitness, self defense and life goals.
"Our school is a place where anyone can train and reach their goals, no matter whether they want to master the sport and earn their black belt, lose weight and get in shape or become a World champion," says Julius Park, the school's owner, a black belt who has been studying jiu jitsu for fifteen years. "With the new location, we are offering the same expert coaching and training in the same team-oriented, family-friendly atmosphere."
Brazilian Jiu Jitsu is a grappling, wrestling martial art originally created in Japan, brought to Brazil and then popularized in the United States with the rise of mixed martial arts events such as the Ultimate Fighting Championship.
Using principles of leverage and body mechanics, jiu jitsu allows a smaller person to defeat a larger person, as long as the smaller person knows more technique. People call it human chess, since strategy and knowledge are paramount.
The Owings Mills martial arts school will offer adult jiu jitsu classes designed for the pure beginner, as well as more advanced instruction for those who want to take their training to the next level. The coaches will be of the same caliber as those at the school's original location -- expert teachers who have honed their technique through years of training, teaching and competing.
Jon Delbrugge, who has been training and competing in Brazilian Jiu Jitsu and mixed martial arts for more than 5 years, will be teaching at the new Owings Mills location.
"We're the only school in the area that has produced world champions in every category, juvenile, adult, masters and seniors," Park says. "Our technique and instruction is top-notch and has been put to the test at the biggest jiu jitsu tournaments in the world. That is a benefit to all of our students, since they know they are learning from the best."
If you're interested in Crazy 88's 30 day free trial for kids or adults No Gi, BJJ, Muay Thai Kickboxing or Mixed Martial Arts in the Owings Mills area, please call 443-283-1450 or visit http://owingsmills.crazy88bjj.com.