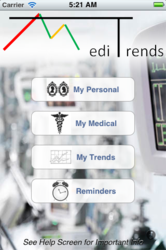 MediTrends Empowers an individual to Better Health
Jackson, NJ (PRWEB) May 28, 2013
Imagine being able to project where a person's Health is heading? The Health & Fitness App, MediTrends, does just that. Using patented, satellite-based algorithms, MediTrends takes current Health and Medical information and provides color-coded graphs that forecasts the future path that a person's health is taking. Not only will MediTrends forecast Health, it also acts as a current Health Guardian. MediTrends stores all of the critical aspects of a person's and their children's Medical and Health information. In a critical health situation, the information can be retrieved and provided to a health expert for clear-cut details when it is absolutely needed. Even in an emergency situation where a person is not able to communicate, the MediTrends App provides an Emergency icon which will allow an emergency responder to access the most critical medical facts without even having to log-in to the App. This information, just a fingertip away, could someday save a life.
DigiMed, LLC, was co-founded three years ago by two former Space based scientists who decided to apply their knowledge and expertise to the Health & Fitness field. MediTrends is DigiMed's first foray into the Health & Fitness software App arena. DigiMed's founders have over 60 combined years of satellite experience. This experience was centered in the area of keeping a satellite healthy through proactive methods of forecasting the future health of a satellite. This same experience was used to develop the MediTrends Health & Fitness App.
In this age of rising Healthcare costs, it is imperative that people be proactive and take responsibility for their own Health. MediTrends empowers a person to do just that. Now an individual can work proactively with their Healthcare provider to map out a plan for getting and staying healthier. MediTrends' color coded graphs forecast the direction a person's health is heading even before their Healthcare provider will spot a medical test that is too high or low. MediTrends will give an individual as well as their Healthcare provider an advance warning which could make the difference between a Life without medication or even surgery. MediTrends can provide a person with the ability to make lifestyle changes before more costly actions need to be taken. MediTrends empowers an individual to better health.
Learn more: http://digimedllc.com/
Available at the App Store: https://itunes.apple.com/us/app/meditrends/id538176866?mt=8