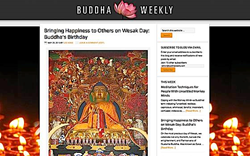 On the most precious day of Wesak, we celebrate not only the birth, but ask the enlightenment, and Parinarvana of Guatama Buddha.
Toronto, ON (PRWEB) May 26, 2013
Buddha Weekly celebrates Wesak, the Buddha's Birthday, with a profile on the most celebrated Buddhist holiday around the world, and the importance of keeping precepts and acting with loving kindness. In the same issue, the magazine covers unconventional meditation techniques for the active monkey mind, including walking, standing and skateboarding.
"Meditation Techniques for People with Unsettled Monkey Minds"
Coping with the Monkey Mind—a Buddhist term indicating "unsettled; restless; capricious; whimsical; fanciful; inconstant; confused; indecisive; uncontrollable"—is one of the biggest obstacles to meditation and mindfulness practice in Buddhism.
The monkey mind disturbs peaceful reflection and creates endless obstacles to mindfulness practice, although flipped on its head, mindfulness can be said to be the "cure" for the monkey mind. Coping with the monkey mind can be helped with different techniques.
Meditation has health benefits as well as mental and spiritual. To achieve any gains, regardless of goal, the mind must be able to focus, to settle. Meditation is one of the best options to help control the accumulated stress and other related problems, normally associated with this fast paced world. Spiritually, meditation is critical to mindfulness practice and reflections on the Dharma. Psychiatry has also long recognized the benefits of stillness meditation. But, what to do if you have the monkey mind, if you simply can't still the mind or the body? Read how here…
"Bringing Happiness to Others on Wesak Day: Buddha's Birthday"
On the most precious day of Wesak, we celebrate not only the birth, but ask the enlightenment, and Parinarvana of Guatama Buddha. Also known as Saka Dawa (Tibetan), Vesakha, Buddha Pumima, and Buddha Jyanti, we celebrate the life and teachings of the Buddha by bringing happiness to others. Affectionately known as Buddha's Birthday, we traditionally make extra efforts to help the unfortunate, poor, sick and aged, and engage in karma yoga activities including cleaning and painting gompas and temples, painting thanks, and feasting on vegetarian food—all in homage to The Enlightened One. Read more…
"Zen Skateboarding: Riding into Enlightenment"
Sonic Mike explores unconventional meditation techniques, illustrating with his own journey to mindfulness on his skateboard in this in-depth profile feature. An atheist turned Buddhist, Mike tried various methods of meditation, all failures. When cleaning the garage one day, he found his old skateboard, and before he knew it he was on his way to "a couple hard falls on the way to understanding." In his insightful article, illustrating a new way to think of mindfulness, he wrote: "The skateboard itself became my teacher. It helped me examine the nature of desire." Mike continues to use skateboarding and other unconventional means in his pursuit of enlightenment. "I skate for the sake of skating and what it offers me now – a path to achieve attention and focus, a personal harmony in navigating through urban landscapes. There is no purpose other than being aware with I ride. Instead of focusing on breath, I focus on balance." Read how Mike uses skateboarding as his main mindfulness path here…
About Buddha Weekly
Thousands visit Buddha Weekly every week for Buddhist features and news covering all major Buddhist traditions and practices. Started in 2009, the non-sectarian news magazine covers :

Buddhist Practices
Sangha News from all traditions including: Hinayana, Mahayana, Vajrayana
Dharma Features and Discussions
Kindness Practices
Mindfulness
Meditation
Buddhist News