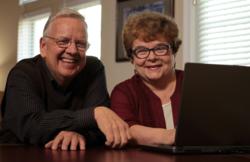 Our SEE-READ-DO Learning System for Boomers and Seniors is a proven learning methodology.
Plano, TX (PRWEB) May 29, 2013
Bill and Mimi Witcher are two intrepid seniors who have become computer savvy enough to turn to Indiegogo Crowdfunding to raise funds for their SEE-READ-DO Learning System™ - a proven method to make computer education easier for Boomers and Seniors.
Crowdfunding is the new high tech way to raise funds for your idea, business or project. According to a Crowdfunding Industry Report, almost $1.5 billion was successfully funded in 2011.
In her late 50's, Mimi Witcher went from being intimidated by computers to taking classes… to teaching classes to seniors in the Emeritus Program at Richland College in Dallas, TX. At the age of 61, she was recognized by her students and peers with the Richland College Excellence in Teaching Award as Teacher of the Year.
Bill and Mimi's Internet journey started about the same time she received her award due to a request by one of her students. They recognized a need and acted upon it even though they had little knowledge about creating a website.
"For the past eight years," said Mimi, "we have invested thousands and thousands of hours to develop on the Internet a proven learning method that I successfully used in the classroom. We call it our SEE-READ-DO Learning System™ for Boomers and Seniors."
"We are in the process of producing short, encouraging videos for all of Mimi's Lesson Plans," said Bill Witcher, Co-Founder. "By being able to SEE the Lesson Plan before they do it, our students will be able to visualize the lesson as they do it."
The Witcher's designed their campus-website to enable their students to print each Lesson Plan. This gives them something to READ and refer to as they finally DO each Lesson Plan on their computer.
From being intimidated by computers to raising funds on the Internet via crowdfunding… who says "you can't teach an old dog new tricks?"
MyPCSchool.com is a large online virtual campus offering over 500 Computer Lesson Plans created specifically for Boomers & Seniors. Our vision is to create "Limitless Learning" – so that no matter your age or prior experience, our online learning system will provide you with the confidence and skill to use your computer to learn, to create and to connect with the world around you. For information about their crowdfunding campaign, go to http://www.indiegogo.com/projects/computer-education-made-easy.