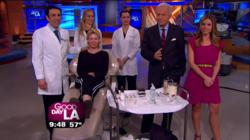 Los Angeles, California (PRWEB) May 29, 2013
According to a May 18, 2013 USA Today article titled "Money Quick Tips: The Cost of Cosmetic Surgery," given the recent increase in demand for wrinkle-free faces and other types of plastic surgery, consumers are beginning to look for bargain deals. According to the American Society of Plastic Surgeons, 14.6 million cosmetic procedures were performed in 2012 alone. (Go to goo.gl/Hw6CY).
"Only at the end of the article does the author touch on the most important point, not to cut corners to save a few bucks," says Dr. Simon Ourian, Medical Director of Epione Beverly Hills. "Of course it's a good idea to get an estimate of how much a procedure costs before visiting a doctor. One can find the average price range of a procedure by checking online, keeping in mind that prices will vary based on location due to many factors."
Since most plastic surgery procedures are elective from a medical standpoint, they are typically not covered by insurance. According to the report, this means that the physician does not have to deal with insurance rates and therefore, the price of your procedure may be more negotiable. Remember that most will charge less if the patient is able to pay the full cost right away.
According to the article, it would be best to avoid credit card offers. Paying by credit card might sound easier on the budget initially, as you pay in installments. However, one should keep in mind that rates may increase in time and may actually cost more in the long run.
"Yes, deal sites offer discounts on procedures like laser hair removal or Botox. We don't do these deals at Epione for numerous reasons, one being that this may be fee splitting that is illegal in California," says Dr. Ourian. "Cost should certainly be a factor in one's decision-making process but not the primary one. Having the procedure done properly and safely should be primary."
Dr. Ourian has been a pioneer in laser technology and non-invasive aesthetic procedures including Restylane, Juvéderm, Radiesse and Sculptra. These treatments are used for the correction or reversal of a variety of conditions such as acne, acne scars, skin discoloration, wrinkles, stretch marks, varicose veins, cellulite, and others. More information about saving money on cosmetic surgery can be found on Epione's website.