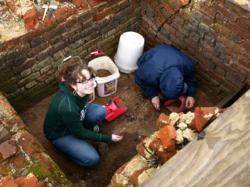 Boulder, Colorado (PRWEB) May 30, 2013
Adventures in Preservation (AiP) and The Fairfield Foundation announce that Ray Cannetti will help lead and teach participants during their August 2013 project at Fairfield Plantation in Gloucester, Virginia. Mr. Cannetti is a renowned brick and stone mason who specializes in historic materials and techniques. Project participants will learn both preservation and archaeology skills as they work to preserve remains of the manor's brick foundation.
Ray Cannetti is one of the leading specialists in the U.S. working with historic brick and stone masonry. He is also a professionally trained stone carver. Several of his most recognizable projects are those at Mount Vernon, Montpelier Station, and Colonial Williamsburg.
Mr. Cannetti is bringing with him as a guest lecturer Matt Webster, Colonial Williamsburg's curator of architectural collections. Mr. Webster has also been involved in projects at Drayton Hall in South Carolina and Kenmore near Fredericksburg in Virginia. Jason Whitehead, Supervisor of Historic Masonry Trades at Colonial Williamsburg, will join the team to demonstrate colonial shell mortar manufacture on-site.
The Fairfield Plantation site includes the foundation and ruins of the 1694 manor house, dismantled after a disastrous fire in 1897. This colonial-era house was one of Virginia's magnificent manor houses, once surrounded by 7,000 acres of tobacco fields and forestland at the heart of Gloucester County, just north of Williamsburg.
Those attending AiP's August 25-31, 2013 session will receive outstanding training. The week will begin with intense instruction in archaeological excavation technique with specific attention to documenting uncovered architectural fabric of the manor house.
Participants will take part in a demonstration with burned shell, making a "hot mix" mortar as was done in the 18th century. Team members will learn how to lay brick using the shell mortar and will practice laying brick in typical brick bond patterns, such as English and Flemish bond, using joint tooling to create profiles. There will be a strong emphasis on technique and the connection between archaeology and materials conservation.
This is a rare opportunity for students, professionals and interested laypersons to receive on-site instruction and guidance from a team of leading masonry conservators, headed by Mr. Cannetti, and staff archaeologists of the Fairfield Foundation.
Contact Adventures in Preservation at trips(at)adventuresinpreservation(dot)org if you would like to attend the August session, or see AiP's website. For more information on the Fairfield Plantation site and the activities of the Fairfield Foundation, visit http://www.fairfieldfoundation.org.
Adventures in Preservation is a non-profit organization connecting people and preservation through enriching experiential programs that safeguard cultural heritage. One- and two-week hands-on volunteer vacations give participants the opportunity to travel, experience their destination, and learn hands-on skills while saving a valuable historic resource. AiP envisions a world where people use, understand, and appreciate historic buildings that are vital to economic and environmental sustainability. Learn more about how AiP citizen preservationists combine their power with the strength of local communities to make a difference at http://www.adventuresinpreservation.org.
The Fairfield Foundation was founded in November 2000 with the purpose of the archaeological study of the Burwell Plantation, known as Fairfield/Carter's Creek, in Gloucester County. The Foundation emphasizes public engagement, and working with school groups, interns, and volunteers in both the field and the lab. Their focus has recently expanded to include all aspects of historical preservation in order to study and preserve the physical history that is meaningful to the surrounding community. In 2010, they purchased the Edge Hill Service Station to serve as the Center for Archaeology, Preservation and Education (CAPE). Their expanded reach allows them to conduct research and programs across eastern Virginia, helping property owners, educational institutions, and local governments preserve and learn from their historical resources, ensuring they survive for future generations to appreciate and enjoy.